Following three spectacular New Zealand dates on last night's episode of The Bachelor, Jason Mesnick had to narrow the field of three women to two.
In the end, Mesnick elected to eliminate Jillian Harris, a 29-year-old interior designer from Canada. Here's what she had to say to ET about it ...
ET: What was your favorite part of this experience?
Jillian Harris: Before I did the show, I was a little bit worried if I would find my Prince Charming. Being there and feeling those sparks again made me realize that I can have that feeling again. I loved the adventure of it. I loved not being in control for once. I loved traveling. The girls were awesome. Obviously, [Jason Mesnick] treated me like gold. I loved that I was brave enough to take a leap of faith. What do they say? You miss 100 percent of the shots you don't take.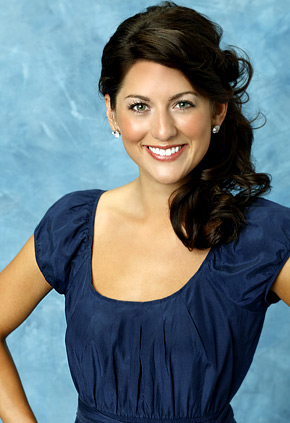 ET: It has to be hard to get to the final three and not win Jason's heart. If asked, would you consider being the next The Bachelorette?

Jillian Harris: Part of me says, "Jill, stop while you are ahead. Now that you have done this and learned a lot about yourself, do it the old-fashioned way."

The old-fashioned way hasn't been working, so the other part of me says, "Jill, just go ahead and do it. You are an adventure seeker. Give it a shot and maybefind him that way." I think I have to sleep on it - and maybe have a glass of wine.

ET: You mentioned that you felt you were too slow in letting Jason know how you felt about him. Is that what you would do over? Do you think it would really make a difference, or do people make a true connection, so it wouldn't change things?

Jillian Harris: Good question. Watching the show now, I think, "Jill, you should have opened up more. Why weren't you more flirty like Melissa?" But a) I am not really like that to begin with, and b) it may have been the connection. Make a decision - whether it was the right or wrong one - and I for sure think I will stay in touch with him. Whoever he chooses, hopefully we will have barbecues and hang out.

Follow the link to continue reading Jillian's exit interview ...

Matt Richenthal is the Editor in Chief of TV Fanatic. Follow him on Twitter and on Google+.

Tags: The Bachelor