Welcome to the Gossip Girl Insider Round Table!
As fans gather in our The Grandfather" include memorable quotes, Lily's past, poor Vanessa, Chuck's quandary, and what's up next for Nair and Chair ...
~~~~~~~~~~~~~~~~~~~~~~~~~~~~~~~
1. What was your favorite Gossip Girl quote from the episode?

DANdy: When Carter referred to Chuck as the "Bass cop." The pun itself was atrocious, but gotta admire the guy for trying.
Gossip Guy: I think I have to give this one for Dan when he asks Vanessa, "do you think the Humphreys have a crest that Jenny could sew onto one of my cardigans?"
Mister Meester: I enjoyed Vanessa's lamenting to Dan and Jenny about Nate: "We broke up. Well, we didn't actually break up, we just ... it is what it is." A perfect summation, as none of us know how to describe their relationship either. I also loved this exchange: Serena: "Chuck, she's embarrassed, so we've gotta give her time to lick her wounds." Chuck: "Maybe I could lick them for her." I don't even know what that's supposed to mean from a sexual standpoint, but you knew he was gonna go there.
2. Will the past continue to be an issue for Lily and Rufus?

DANdy: Maybe. I just don't feel like I know enough about Lily's past to form an opinion yet. If only there were some upcoming TV show that would shed more light on it...
Mister Meester: I don't know, but if this was a Lost spoilers-style flash forward of sorts, setting us up for some of Lily's past trysts as shown on the Gossip Girl spinoff, kudos to Josh Schwartz & Co. I cannot wait to see an impressionable young L (Brittany Snow) getting trashed backstage at Nine Inch Nails and Guns n' Roses concerts.
Gossip Guy: I'm not sure which part of their past I'm shocked about, the rock star Rufus' numbers being so low or Lily van der Woodsen always being alluded to as such a slut yet only have two pages of names. I was expecting a novel. But to answer your question, no way. Rufus is too calm and collected.
3. Do you feel bad for Vanessa?
Mister Meester: A little. We were just starting to get to see a little of Nate's relationship with V and it wasn't all bad. Then her own goodness in pushing him to reconcile with his family ended up being her undoing. That's just cold, fate. Cold.
DANdy: Yes. All that bashing, courtesy of Gossip Guy, every week on the Round Table can't be good for her self-esteem.
Gossip Guy: Seriously? Next question.
4. Should Chuck have done as requested when Blair said "take me now," or did he handle the situation correctly?
Gossip Guy: Chuck, I admire that you were trying to do the right thing but you are a better man than I. Idiot.
DANdy: He handled the situation properly... for any normal, self-respecting human being. But that's not what we want from Chuck Bass! Dude should have chucked his reservations and tapped that Bass (that's how it's done, Carter!).
Mister Meester: Bless his heart, Chuck has now passed up multiple opportunities to close the deal with Blair because it wasn't perfect. This man is a softie at heart, despite his earlier claims that he doesn't have a romantic bone in his body (least of all that one). He had better sleep around with his chiropractors in the meantime, though, lest this revelation be leaked in a Gossip Girl blast and sully his reputation.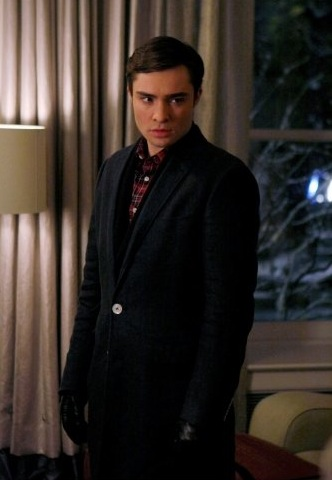 Did Chuck Bass blow his big chance at Blair Waldorf?


5. What's next for Blair and Nate?

Gossip Guy: OMG. I knew this was coming from all the Gossip Girl spoilers, but it still kills me to watch a man other than Chuck in there.

DANdy: Breakfast, served by Dorota.

Mister Meester: I'm looking forward to the love quadrangle in next week's episode, with Chuck and Vanessa teaming up to get back and Blair and Nate! That should be good, as Jessica Szohr and Ed Westwick are definitely comfortable smooching (see Miami pics). Unfortch, my guess is Nair is in and Chair out for the forseeable future.

~~~~~~~~~~~~~~~~~~~~~~~~~~~~~~~

What is your take on these hot Gossip Girl topics? Leave a comment with your answer(s). We want to know what you think!


Steve Marsi is the Managing Editor of TV Fanatic. Follow him on Google+ or email him here.

Tags: Gossip Girl, Round Tables