Welcome to the 90210 Round Table!
Every week, a trio of TV Fanatic writers gather to analyze the burning questions and memorable moments from the most recent installment. What did we like and dislike about "Off the Rails?"

Let's discuss! This week's topics from the show include Annie's attitude, Kelly/Ryan, Adrianna's baby and more...
Annie said she's been acting like a jerk. Do you agree?
BrendaLova: That's going a bit too far. Don't be so hard on yourself, Annie. Blindly - perhaps ignorantly - seeking love in high school? Who among us has not been there?!?

The Real McKay: Going behind your supposed friends' back and dating her ex?  I would say "jerk" is the most G-rated word I could call her.  Do girls have a version of the bro code?  If so, Annie totally violated it.

Wild4Wilds: No. That would imply Shenae Grimes has been acting in some effective way.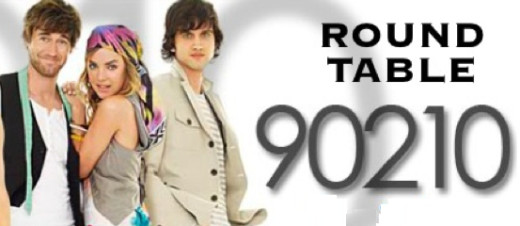 Will Kelly and Ryan date?
The Real McKay: Of course!  Ryan may have slept with Kelly's best friend, but have you seen how cute he is?  I forgave him, and so will Kelly.

Wild4Wilds: Sure. It's not like Kelly hasn't lapped up Brenda's sloppy seconds before (see McKay, Dylan).

BrendaLova: Come on. Did Steve Sanders have curly hair?

Will Adrianna keep her baby?
Wild4Wilds: Definitely. Reading to a tired infant is really all it takes to be a good parent, right?

BrendaLova: No. I will continue to believe Brenda will adopt this child until I'm proven wrong.

The Real McKay: Because of one night of babysitting for Kelly?  I don't care how good of a father Navid will be (and he will be!).  Adrianna should give that baby up for adoption.  You still need to live your life, girl.

Who is more insane: Silver or Jackie Taylor?
BrendaLova: Jackie. Go back to Mel, honey. That "Dierk" dude wasn't even good looking!

The Real McKay: Haha. Putting on my clinical psychology hat (which has gotten dusty, anyway), I am gonna have to go with Silver.  Jackie may be a bit of an alcoholic and a horrible mom, but I didn't see her break any teacher's windows.

Wild4Wilds: Silver. You did hear the baking soda quote, right?

Matt Richenthal is the Editor in Chief of TV Fanatic. Follow him on Twitter and on Google+.

Tags: 90210, Round Tables