After weeks of cat fighting, crying and kissing, Cocktail has come out on top. She is the first-ever winner of For the Love of Ray J.
She also hopes to be the last.
In her first post-show interview, Ray J's new squeeze talks about the status of her relationship with the aspiring singer....
What's the status of your relationship?
He's my boyfriend, and the fact that I'm not seeing my boyfriend as much as I'd like to is different from what I'm used to. I would love to see him everyday and have him come home to me every night. But that's not what it is, and I have to take it for what it is. I'm patiently learning his lifestyle. I expected this, but I'm sad now that I'm going through it. But it just makes the times I see him even more special.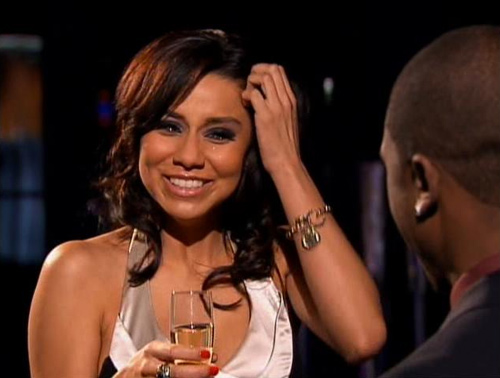 Do you love him?
I do. I'm in love with him. I'm head over heels. When I tell my girlfriends that they're like, "Are you kidding me?" No, this is the only man in my life right now that can say anything to me and make me fall into tears. It takes someone that I care about to go through with that emotion and show my vulnerability. I know I cried every three seconds on the show, but I care about him so much that he can say anything, the sweetest thing, the most horrible thing, and I burst into tears. I'm so overwhelmed.

So where do you go from here with Ray?
We're going to try to make it work. We take things as they come. We're regular people. I know people are like, "He's this big R&B artist, this big star," but he's just like me and you. He's a regular person with regular feelings. We're gonna make the best of this and if it works out, it's better for me and him. We found what we always wanted, and it's love.

Click on the pics above to relive Cocktail's time on For the Love of Ray J.

Matt Richenthal is the Editor in Chief of TV Fanatic. Follow him on Twitter and on Google+.

Tags: Reality TV