Ed Westwick is almost as crafty as Chuck Bass.
Getting any Gossip Girl spoilers from the British actor about the fictional life he leads on the Upper East Side is a nearly impossible task, MTV found.
"Well, you know, we like to keep our audience on their toes," he told MTV News about the current bed-hopping ways of the show's New York City teens.
"We just shot the finale for the season, and there's an interesting conclusion. A happy one, I hope everyone will think."
Ed Westwick, who is currently dating co-star Jessica Szohr (Vanessa) in real life, won't say if Chuck and Blair (Leighton Meester) will rekindle their flame.
"I can't reveal these kinds of things," the actor said, advising the show's rabid fan base, "Watch! Watch. You have to watch!"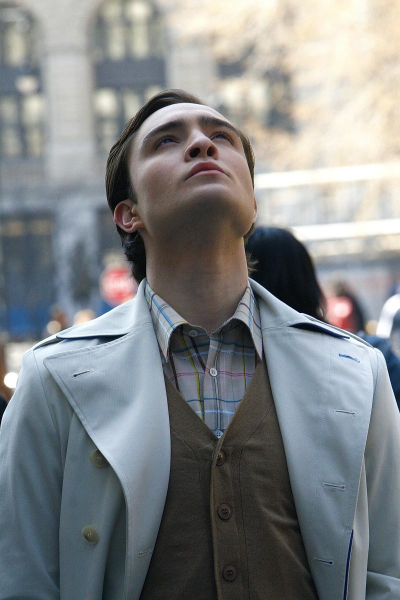 Ed Westwick on the Gossip Girl set in N.Y.C. yesterday. [Photo: Splash News]

Although he knows how Chuck will finish the season, Westwick is apparently still in the dark about the details of with Lily and Rufus' presumed-dead love child.

"I don't know what's going on," the 21-year-old said, before telling MTV, "I'm not revealing anything, you know. You're not gonna get me."

Westwick was more open to talking about his ink, especially the "Heartbreak Hotel" tattoo that captivated fans' interest after he showed it off in the latest issue of Rolling Stone.

"Elvis Presley," he said of the inspiration for it.

"That's one of my old ones. Would have thought you would have mentioned one of the new ones. You'll have to wait and see [them] when my shirt comes off in a photo shoot."

Steve Marsi is the Managing Editor of TV Fanatic. Follow him on Google+ or email him here.

Tags: Gossip Girl