Below, we've posted a sample of the best lines from last week's The Office, "Broke."
Whether you missed it or just want to relive some of the best lines a second time, prepare to laugh, and be sure to check out our library of The Office quotes from EVERY episode!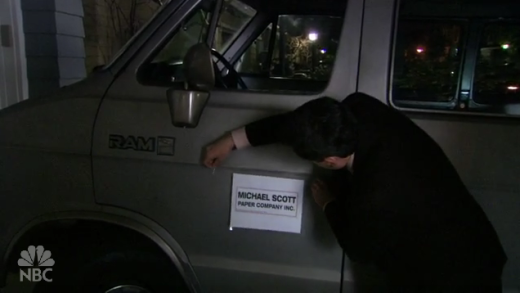 Michael: It's 4:30 in the morning. Do you know where your kids are? If you are Ryan's parents or Pam's parents or my parents, you do. They're gonna be in this van. With me. Who am I? Nothing to fear. I am just a 44 year old guy with a paper route. | permalink
Michael: There are certain defining moments in a person's life. The day he is born. The day he grows hair. The day he starts a business. And the day he sells that business back to Dunder Mifflin. | permalink
David: Do you realize what you're asking for here? You're talking about salary plus health benefits-
Michael: And dental.
David: Insurance, taxes, social security for three people. This is a heck of a lot more than 60 grand. You're talking about a multi-million dollar buy-ut.
Michael: These are our demands.
David: Your company cannot be worth that much.
Michael: Our company is worth nothing. | permalink
David: We are prepared to make you a very generous offer.
Michael: And we are prepared to reject that offer.
Ryan: Michael, you haven't even heard-
Michael: Never accept their first offer. What is your second offer?
David: $12,000.
Michael: Are you kidding me? That is insultingly low. I don't even want to hear what your first offer was. | permalink
Dwight: I say we fill Michael's office with bees. My apiarist owes me a favor.
Jim: Really? Does he do good work?
Dwight: [scoffs sarcastically] No, I work with a BAD apiarist, Jim. | permalink
Michael: Did I ever tell you about the day that Steve Martin died?
Pam: Steve Martin's not dead, Michael.
Michael: I know. But I always thought that the day that he died would be the worst day of my life. I was wrong. It's this. | permalink
Steve Marsi is the Managing Editor of TV Fanatic. Follow him on Google+ or email him here.

Tags: The Office
Want more The Office?
Sign up for our daily newsletter and receive the latest tv news delivered to your inbox for free!
More From TV Fanatic
Who comprises the most couple couple in TV history? VOTE NOW!
The Office ended its nine season run this week, and the finale was as emotional as it gets. Read the review to find out our favorite moments from the final episode.
The Office comes to an end tonight. Relive the best Michael versus Toby moments in this video.
Dwight and Jim set out to find the perfect assistant to the Assistant to the Regional Manager on this week's penultimate The Office. Did they make the right choice?
---