Welcome to this week's edition of the 90210 Round Table!
After most episodes, our staff tackles a handful of questions about the latest installment. We go back and forth regarding event from each hour, which, in this case, means it's time to focus on the season one finale.
Topics for this version include Annie's accident, Liam's future, Adrianna's baby and more...
Who did Annie hit with her car?
BrendaLova: It's gotta be Ethan. Dustin Milligan isn't returning next season anyway.

The Real McKay: Dixon. He was pissed about Silver, left in a huff and got run over by his sister. Makes for a great storyline heading into season two!

Wild4Wilds: Ty. Or maybe that's just wishful thinking. The jerk has to go!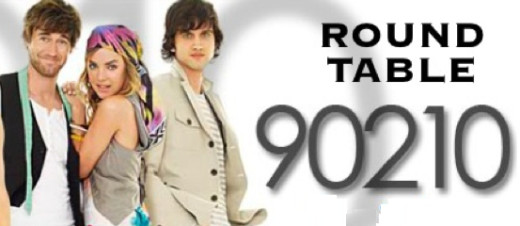 Will we see Liam again?
The Real McKay: Yes. But he'll be very different from before. The sarcasm will be replaced with the seriousness of someone that's been to military school.

Wild4Wilds: Not for awhile. Like around September, I'd say.

BrendaLova: Since I'm the one who spoke to Matt Lanter, and he confirmed his status as a series regular, I'm gonna say yes.

Is this the last we've seen of Adrianna's baby?
Wild4Wilds: Yes. Looks like everyone was wrong and she wasn't adopted by Brenda. So I can't imagine why she'd ever make an appearance again.

BrendaLova: Let's hope so, for Adrianna's sake. It was a tough decision, but now she must move on. Seeing her daughter often would hamper any personal growth or progress.

The Real McKay: Not if the show is on for many years. I can see it going the quasi Gossip Girl route and introducing a previously-adopted kid down the line.

What was your favorite storyline from season one?
BrendaLova: The use of Jen Clarke. A good show needs a good bitch... and we definitely have one here!

The Real McKay: The return of Beverly Hills, 90210 favorites. Sorry, I'm just a sucker for Donna, Brenda and company!

Wild4Wilds: The Adrianna pregnancy. Jessica Lowndes began the season as a recurring character, and ended it as the best actress on the show. She knocked this storyline out of the park!

Matt Richenthal is the Editor in Chief of TV Fanatic. Follow him on Twitter and on Google+.

Tags: 90210, Round Tables