You've sounded off in our Valley Girls" include memorable lines, the pros and cons of '80s Lily, Nair's breakup, Derena's future and next week's finale ...
~~~~~~~~~~~~~~~~~~~~~~~~~~~~~~~
1. What was your favorite Gossip Girl quote from the episode?

DANdy: Carol's reference to a music video as equating to "national exposure [and] the birth of a new art form." This was true for awhile on MTV, but the network then killed the music video in favor of people such as Heidi Montag and Spencer Pratt. I blame you for their existence, Carol.
Gossip Guy: Can I actually go with the whole exchange of Dorota bringing the dress to Blair instead of a quote? I guess if we had to limit it to just a quote, I'll go with the "This body bag, corpse not pretty" as she held up the dry cleaning bag.
Mister Meester: I love my celebrity gossip, so it's gotta be Blair's observation that "Serena's been in jail for four hours, she's already served more time than Lindsay Lohan and Nicole Richie combined!" She must think these up in advance.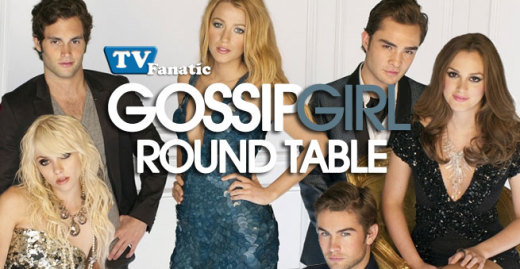 2. Did Blair break up with Nate for the right reasons?
DANdy: Yes. There are always three acceptable reasons for a break up: infidelity; a sex change; and clearly being in love with your boyfriend's BFF.
Mister Meester: While I agree with Gossip Girl that our queen was with the wrong king up on that stage, it still seemed a little sudden and forced to me. Nate received virtually no explanation, nor did he ask for one. Perhaps without devoting half the episode to flashbacks, this could have been developed better.
Gossip Guy:  No. The right reasons were because he's not Chuck, but at least she made the choice in the end.
3. Will Dan and Serena get together ... again?
Mister Meester: I hope so. Since the beginning of the series I've been a sucker for my Derena. They definitely have their share of issues and need to take it slower to make it actually last this time, but that's one journey I want to be a part of. Now.
DANdy: Wait, they're not together? I can't keep up with these two!
Gossip Guy: That was actually ridiculously sweet what he did. My only issues are, eww, couldn't the girl have gone home and showered after being in jail before going to prom? Anyways, I was very happy these two went to prom together, but I just don't think they're going to work.
4. What did you like most about the '80s scenes?
Gossip Guy: No Doubt, excuse me, Snowed Out, rocking out. How does Gwen Stefani still look that good? Oh, and the rest of the rocking 80's music and ridiculous outfits.
DANdy: The cocaine snorting. I really miss those days.
Mister Meester: I'm a sucker for '80s hits, so definitely the music. I also loved Kryster Ritter as Carol, and the role-reversing tie-ins with 2009 Lily's struggle with Serena didn't make the flashbacks seem quite as forced as I expected.
Brittany Snow as Lily Rhodes, circa 1983.


5. What did you like least about the '80s scenes?

Mister Meester: Three words, eight letters: zzz zz zzz. Don't get me wrong, they did a nice enough job with the flashbacks. I'm just a little confused as to why I should care about this supporting character's exploits in an era I can only vaguely recall. And by that, I obviously mean I was walking around in a drug-induced haze three years old.

Gossip Guy: The lame casting of Brittany Snow. She's cute. Her acting wasn't bad. But I'm sorry, there's no way I'll ever believe her as a young Kelly Rutherford. You guys ever hear of height, eyes, and facial structure? I'd like to personally fire whoever made this casting call. It completely dispelled any chance of me believing these scenes.

DANdy: The cocaine snorting. It reminded me of Darryl Strawberry's fall from grace.

BONUS QUESTION: Fill in the blanks based on the CW's season finale synopsis: Blair and Chuck finally ______. Serena is shocked by ______. Georgina decides to ______. Dan, Nate, and Vanessa unknowingly ________.

DANdy: Blair and Chuck finally have sex in a bed. Serena is shocked by the ample size of her bosom. Georgina decides to run for Congress. Dan, Nate, and Vanessa unknowingly shower together.

Gossip Guy: Blair and Chuck finally confess their love. Serena is shocked by to learn even her looks can't get the money back. Georgina decides to leave the show and end the crappy crime caper storyline. Dan, Nate, and Vanessa unknowingly have a devil's threesome. Not sure how unknowingly.

Mister Meester: Blair and Chuck finally ... say what we've been waiting to hear for so long? Serena is shocked by ... the identity of her half-brother? Georgina decides to ... move back to New York? D and N hook up with V unbeknownst to the other?

~~~~~~~~~~~~~~~~~~~~~~~~~~~~~~~

What is your take on these hot Gossip Girl topics? Leave a comment with your answer(s). We want to know what you think!


Steve Marsi is the Managing Editor of TV Fanatic. Follow him on Google+ or email him here.

Tags: Gossip Girl, Round Tables