Get ready to see Leighton Meester as you've never seen her before - and no, we're not talking about that rumored sex tape made with a boyfriend years ago.
In The Roommate, two college coeds (Leighton and Minka Kelly of Friday Night Lights fame), who are both interested in art and fashion, become roommates.
Only one turns out to be stranger than thought.
Cam Gigandet (The OC, Twilight) plays Minka's rock band drummer boyfriend and, of course, all does not stay rosy in the halls and rooms of the dorm.
SheKnows.com recently interviewed Leighton and Minka about their new movie. Below are some thoughts from the two cuties, who some say look alike ...

Q: Minka, you and Leighton seem to be joking around and getting along great. Had you met before The Roommate or worked together before?
Minka Kelly: Yeah. Actually we worked together six years ago. We went to South Africa together and did a Clearasil commercial and have sort of championed each other on over the years and been really proud to see each other grow and now we're doing this thing together. It's just really funny how life works. It's great. I couldn't ask for a better opposite. I just love working with her and she's so much a pro. And, just the depth she's bringing to this character I couldn't imagine anyone doing better. She's fantastic.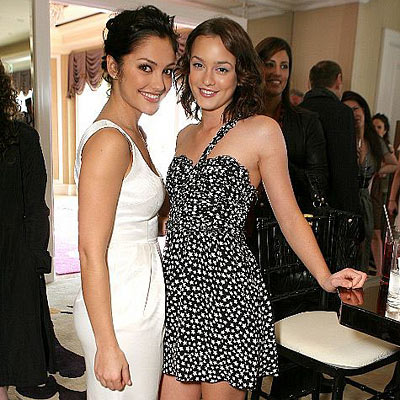 Leighton Meester: I met her when I was 16 years old. They were doing a couple of commercials in South Africa for Clearasil and we went. She was in one where she played a waitress and I was in one where I'm this girl who goes to a party and uses the product and everything turns out great!

Q: Of course. We're all only one zit away from complete happiness! (laughter) So you were friends even that long ago?

Leighton Meester: Oh yeah.

Q:

Minka, you shot the pilot for

The Body Politic

about interns in Washington, D.C. What are your hopes for the show?

Minka Kelly: I hope you get to see the show. I think it's put together with such a great group of people. I think the cast is fantastic. Scott Wynant did an incredible job directing it and he's an actor's director for sure. He has such love for the actors so we were able to make a unique and special piece of work. I think it's very current right now and I think it's appropriate especially with the huge movement that we had with all the young people voting for Obama and it's along those lines. I think that our audience, our younger generation is ready to evolve and think a little bit when they watch TV and have a larger vocabulary when they watch TV. I think we can assume our young men and women are a little bit more intelligent than just boys and girls dating and cheating. Let's feed them a little bit!

Q: I agree! Anything else lined up for you, Leighton?

Leighton Meester: Right now, this. I've been doing Gossip Girl for a while so it's nice to switch it up for a bit and just be somebody else and be in a different environment for a while. I just did a part in this movie Date Night with Tina Fey which was very funny.

Q: You play a babysitter?

Leighton Meester: Yeah. It was really fun and funny and they're very open and awesome. So that was very inspiring and cool but just so different. It's nice to have variety I think. But, this film is good. It's very challenging.

Q: What about Minka guest-starring on Gossip Girl? Is that a possibility?

Minka Kelly: We joke about it a little bit. 'I'll come and be your sister!'. I'd definitely not shy away from that. I'm a big fan of hers period so that would be fun! I'd be in good company.

Leighton Meester: I'd love that! That would be awesome. She would be great.

Steve Marsi is the Managing Editor of TV Fanatic. Follow him on Google+ or email him here.

Tags: Gossip Girl