Michael Vartan stars next as the (Mc)dreamy Dr. Tom Wakefield opposite Jada Pinkett Smith in TNT's new medical drama, Hawthorne, which centers on the nurses.
Michael plays the straight-laced, by-the-books chief of surgery to Jada's tough, risk-taking Christina Hawthorne, Richmond Trinity Hospital's chief nursing officer.
The former Alias star dished to E! Online on working with Mrs. Will Smith (She's apparently quite hilarious), not being a risk taker (He's a "pansy.") and more:
Q: What attracted you to Hawthorne?
A: First and foremost, Jada. Let's be honest. And also, I really liked the concept of the show. I know there are a lot of medical dramas out there, but this one is different in the sense that it tells the story of what goes on in a hospital from the nurse's point of view.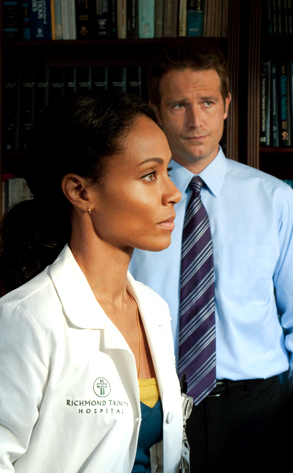 Q: Is there romance between your character and Jada's Christina?

A: It's television, so honestly I'd be surprised if there wasn't. But in the story, her husband just passed away about six months to a year ago, and I was a close friend of his. So we're going to need a little healing time for the poor girl before [my character] swoops in to try to take her out. But yeah, I definitely think that's one element of the story that's going to be explored at some point. I don't know when. But I can't image it not happening.

Q: Who might you hook up with before you get your shot with Christina?

A: I haven't heard a peep about that yet. Mainly because our characters are slaves to the hospital and work so damn long. I don't think there will be time for much romance, other than possibly with Christina because they're basically the only people they each hang out with. So it's almost, by default, as if they're going to have to, at some point, get it on. I guess.

Q:

Your character is not a risk taker. He does things by the book. Do you relate to that?

A: Yeah. I'm a pansy. I'm not embarrassed to say it. She is the ultimate risk taker. She is willing to break all the rules to do what she needs to do to help her patients; whereas my character really is by the book and hates breaking rules. That's why they fight all the time and have this fun love/hate relationship. In personal life, I wouldn't say I'm a big risk taker. No. I like things to be planned out. I'm not a huge fan of surprises. I like to know where I'm going, who's going to be there, what time we're going to get there. I do relate to good ol' Tom.

Q: What was the last risky decision you made in your life?

A: That's a good question. Oh, God. Am I that boring? I'm just realizing: Is your life that dull? Dude, I need to spice it up a little. I can't remember. Honestly. I'm not trying to avoid the question at all. I'm just trying to remember. I think anytime you get a job and you accept a job in my line of work is a risk because you never know if it's going to be successful or not. But Hawthorne certainly wasn't a risk. It felt very comfortable to me because of Jada and the writing.

Q: Why do you think there are three medical shows from the nurse's point of view now? There's Hawthorne, NBC's Mercy and Showtime's Nurse Jackie.

A: I don't really know. I think the medical worlds, to begin with, will always be compelling and always be something that someone's going to tell a story about because you're dealing with life-and-death situations, and it doesn't really get any more heightened than that. In terms of the nurse's perspective, I guess it's just cyclical. I'd love to say we were first. I don't know if that is true or not. I think it's quite often you see in this business that if something is successful, there is a lot of copycatting going on and people try to capitalize on whatever particular wave is swelling at the moment. That might have something to do with it. It's funny that all these shows are coming out at the same time.

Q: What is the chemistry like with Jada?

A: I was surprised at how funny Jada is and what an insanely wacky and fun sense of humor she has. I'd never met her before, so I didn't know what to expect. In a lot of the roles that I've seen her in, she plays very strong women, but very dramatic and tough. She really is a goofball. She loves to laugh. She's always cracking jokes about everything. We have a really good time, which is a blessing because I've worked on sets when it wasn't always the case. It's a lot of fun. We laugh way more than we should.

Q: How hard is learning the medical terminology?

A: That is a tough thing to do because it's hard enough to learn your lines when you understand what you're saying; even more so when you have no idea what you're saying. And even though we have a crack staff of real-life nurses who guide us through all the twists and turns of the medical profession and tell us what we're actually supposed to be doing, it's still really hard to learn. Acting is not the easiest thing in the world for me. So when I have to think that hard, usually it's a recipe for disaster.

Q: What drew you to acting then?

A: If we're going to be blunt and honest, it's the money. I was 18-years-old. I had no desire to be in showbiz in any capacity whatsoever. And my mom's friend is a director and needed some scrawny-looking, awkward teenager for a documentary he was doing. He asked me if I wanted to do it. I said, "Absolutely not." He said, "I'll give you 600 bucks." I said, "Absolutely yes."

Q: What guest stars are coming up on the show?


A: Cloris Leachman. She played a zany, zany patient who gives one of our young nurses the hardest time she could ever handle. I didn't get to work with her. I just met her briefly. I saw the episode she's in. She's insanely funny. She is a character to say the least. Malcolm-Jamal Warner was on. I got to work with him. He's awesome. He plays someone who gets sick and starts hallucinating and actually thinks Jada's character is his wife in real-life. There's this whole weird storyline between them.

Steve Marsi is the Managing Editor of TV Fanatic. Follow him on Google+ or email him here.

Tags: Hawthorne, Spoilers