Bravo's new series, NYC Prep centers on six kids who are pretty much carbon copies of the characters on Gossip Girl, except they are real.
If this sounds a little bit like The Hills vs. The OC, it's not ... both shows are far more realistic. And that's the scary part!
These "key players in Manhattan's elite high school scene" have endless supplies of money, go clubbing (even though they're under 21), take car services everywhere, go out for $500 dinners, shop.... the list goes on.
Think Chuck and Blair are bad? NYC Prep blows them out of the water.
Kelli, who's only 16, lives on the Upper East side of New York City in a gorgeous apartment with her brother. Her parents live in the Hamptons.
They try to ground her, but it doesn't exactly work considering they don't even live in the same house. Funny how that can stand in the way.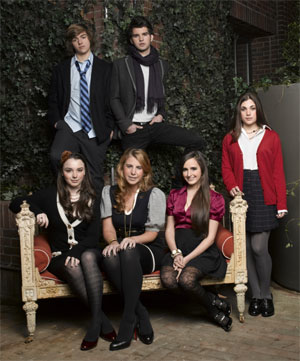 Sebastian likes to hook up with between 2 and 16 girls a month.

P.C. isn't worried about getting rejected from college, because if it happens, phone calls will be made to make sure he's accepted.

Taylor goes to public school but does whatever she can to keep her popular status with her prep school friends. Jessie has her group of friends and does not feel the need to make new ones - especially if they're girls.

Camille tags along on other people's dates and wants to ace the SATs.

The castmembers don't watch Gossip Girl - they think it's too big of an exaggeration of their lives. Is it? Probably not as much as they think.

Like The Real Housewives of New Jersey (and New York, and Orange County, etc.), this looks like it's going to be painful, yet too entertaining to miss. NYC Prep premieres on Bravo on June 23 at 10 pm.

Matt Richenthal is the Editor in Chief of TV Fanatic. Follow him on Twitter and on Google+.

Tags: Reality TV