This just in: Jack Bauer is not dead.
After following a solid seventh season with a lame cliffhanger that involved the show's main character on the verge of death, as the result of a virus of which he helped stopped the spread, 24 will return in January with big news:
Jack is alive and well; very well, actually.
"He did make it through and you'll see a little bit later how," executive producer Howard Gordon said at Comic-Con last week.
As for how the eighth season will play out, let's ask the show's star:
"Season seven and eight, probably more than any other season that we've done before, are really connected together. The storylines from season seven really do play all the way through into season eight," said Kiefer Sutherland.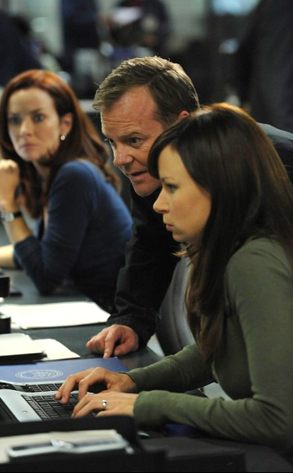 Other 24 spoilers and tidbits revealed at Comic-Con include:

What is the storyline? "The threat centers around a peace conference at the U.N. that is being headed by the President of the United States and the President of Iran. The rest of the day goes forward from that point," said Sutherland.

Where is Jack at? "[The season] starts with Jack in a place we haven't seen and that [he] is happy with his daughter and his granddaughter, and it's really an interesting place because when you see those scenes in the beginning you realize, gosh, we haven't seen this side of him for so long.

There's always this dread when you're watching it that this is not going to last and it makes those moments so much more poignant," said producer Manny Coto.

What about Renee?

Said producer David Fury: "Renee will return within the first few [episodes] and she will be a different person than she was. The hint of the relationship that we put forth in season seven—we will be following through with this season. The season begins with Jack in a happy place ready to start a new life. And when Renee enters the scene, she is a damaged person. But she is someone he decides could be a part of [his] new life."

And Chloe? "My character starts off a little bit behind, if you can believe that for being such a genius, because I've been at home with my son. So I'm back at CTU and having to relearn some stuff," Mary-Lynn Rajskub said.

Matt Richenthal is the Editor in Chief of TV Fanatic. Follow him on Twitter and on Google+.

Tags: 24, Spoilers