In the fourth season finale of Supernatual, a peeved and demon-blood addicted Sam was responsible for freeing Lucifer from his hellish imprisonment. Oops!
In an interview with TV Guide Magazine, Supernatural creator Eric Kripke speaks on what Lucifer's return means to the show and, well, the world...
On season five: "It's basically that the angels and Lucifer (Mark Pellegrino) and the demons are just beginning the long foretold Apocalypse from the Book of Revelations. It's the war that everyone's been waiting for for thousands of years. Humanity is unfortunately caught in the middle. Our heroes object to that."
On the show's time frame: "We pick up from the finale, where we left off with the boys in the chapel with the portal to Lucifer's cage opening and Lucifer rising. We show the next few subsequent seconds after that and then continue the story from there."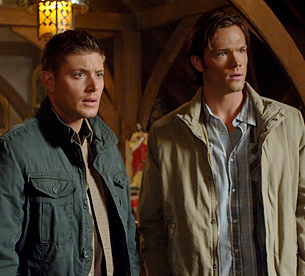 On the return of Meg: "She's a demon. She has a really powerful grudge against the boys. They have history together. She would be a really formidable adversary. Where is she?" Finally, I got impatient and ended up writing her into my own script. It's Mardi Gras for Meg and demons like her. Their demonic Lord and Savior has returned and so it's party time for demons.

"As far as they're concerned, Dean is the only threat to that and so we really ratchet up the tension yet again this season. Pretty much every demon in Hell and on Earth is out gunning for Dean Winchester, because he is pretty much the only one who can destroy basically their Lord and Father.

Matt Richenthal is the Editor in Chief of TV Fanatic. Follow him on Twitter and on Google+.

Tags: Supernatural, Spoilers