Nurse Jackie concludes its wonderful first season tonight.
Because the Showtime hit has already been renewed for a second set of 13 episodes, star Edie Falco can comfortably look ahead. When asked if she wanted the audience to eventually learn why her character cheats, Falco wasn't sure.
"I don't know if I want people to find out," she told the Pittsburgh Post-Gazette. "The more things you leave as questions, the more interesting the show will be. The more it's spelled out, the more it feels like everything else you see on television. People talk about [why she cheats] and I love that. And if there is no cut and dried answer, the conversation will go on longer."
She speaks from experience, considering the murky, controversial ending of The Sopranos.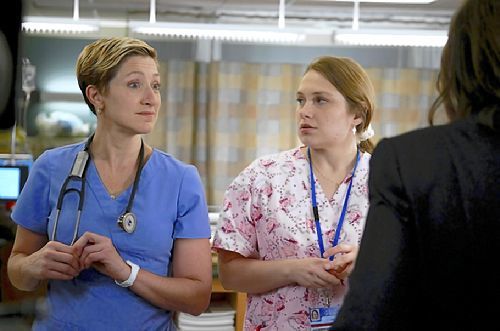 As for the success of the show, Falco deflects praise to the supporting cast.

"I think we were really careful about going for actors who maybe aren't famous. There's nothing cookie-cutter about their portrayals of these characters, and they wouldn't necessarily be the first person a network would choose to cast," she said. "But I'm the president of the fan club of all my co-stars. I never knew what their line reading would be or how different it would be each time we shot it."

Matt Richenthal is the Editor in Chief of TV Fanatic. Follow him on Twitter and on Google+.

Tags: Nurse Jackie