One Tree Hill creator Mark Schwann, original cast member Sophia Bush, and newcomer Shantel VanSanten recently dished to Zap2it about what we can expect when the series returns in a couple of weeks. The short answer: A lot.
Mark talked about reinventing the show, as well as what it's like without Chad Michael Murray, while Sophia hinted at the future for her alter ego Brooke Davis.
In the excerpts below, the three offer some insight on the upcoming Season Seven and reveal some juicy One Tree spoilers to whet our collective appetites.
On whether Julian (Nichols) can make Brooke (Sophia) happy this year: "Well, there are issues for everybody," Sophia Bush said. "One of the things that we have to deal with in our relationship is the distance and, you know, you're in your late 20s and, is this it or is it not?"
"They're very real questions that everybody asks themselves at that age point, but it's really fun and there is a lot of love between [Brooke and Julian]. It's very cool."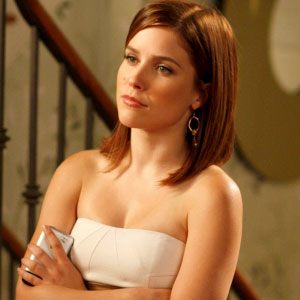 On not having Hilarie and Chad around for the first time since 2003: "You know, it's different, but it doesn't feel strange," Bush said. "Actually, it feels pretty amazing to go to work every day and we're so lucky to have these new cast members and everybody else is still around."

On the One Tree Hill quotes that happen off-camera: "You know, it's Rob and Shantel and Austin and we still have Lisa [Goldstein (Millicent)] and Antwon [Tanner (Skills)] and Allison [Munn (Lauren)] and Lee Norris (Mouth) and Jackson [Brundage (Jamie)] is obviously still there, Jana Kramer is working with us for a while and she's amazing, so many wonderful people."

"So it doesn't feel empty whatsoever. It's a full house and everybody's laughing on set all day and the energy is really incredible."

On Chad and Hilarie leaving being blessing in disguise as far as storylines go: "I think we had a wonderful six years together, but I think that when you're heading into episode 130, anytime you can find new adrenaline and new energy, it is a good thing for the show," Mark Schwann admits. "I have to tell you that the writers room is invigorated and excited to tell

stories about new characters

. And when they see the talent that we've put in these new roles, everybody is inspired."

On whether Julian will be in every episode: "I think last season we got into a bad habit of giving every couple a beginning, middle and an end," muses Schwann. "But this year is more like season one where there may be a character in an episode for just one scene, but they're servicing something that's going to advance over the serialized nature of the show. So, yeah, so far, Austin's been in every episode and I can't imagine that won't continue."

On one of the emerging roles the show: "Well, we steal each other's clothes in real life," Shantel VanSanten says. "Joy [Galeotti (Haley)] came into the make up trailer one day and was like, I like your shirt (my real life shirt). So she says, Can I wear it on the episode? I'm like, Sure. So I took it off and let her have it."

"I play [Haley]'s older sister. I'm a photographer. And I think we both have that artistic side. Her being a singer, we have that same mentality in common and I think we've always been close for that reason. But I got married when I was younger, so I have a whole other relationship and whole other life. I come back to Tree Hill just like a lot of people go home to kind of figure life out."

On the show reinventing itself several times: "We've always been a show that's seemingly been on life support," Schwann says. "But our fans have been brave enough to be objective about the reinvention. And I hope that they will be again. I've been up front about saying that I don't know if they will be. I don't know if, for our fan base, it will always be about that core group of characters."

On what's next for Nathan and Haley: "In my mind, Nathan and Haley have always been a cornerstone of the show. The fan base is so faithful and so important to [One Tree Hill]."

"But at the same time, they're either unhappy that there's disorder in Nathan and Haley's relationship or they're unhappy that it's calm. There's never a time when they're all happy with what's happening with those two. Either Haley doesn't have a big enough storyline or there's too much drama or, when there's a cease fire, it's like they have nothing to do. But it's okay because, in my mind, over the length of the show, it's been the best relationship."

Steve Marsi is the Managing Editor of TV Fanatic. Follow him on Google+ or email him here.

Tags: One Tree Hill, Interviews, Spoilers