It may be hard to believe - partly because so little has actually transpired so far - but the sixth season of Entourage is already halfway finished.
Fortunately, it sounds like the best is yet to come.
E! News has reserved an entire spoiler column to the show. For more upcoming guest stars and relationship developments, read on...
There are more guest stars to come. Look for Zac Efron, Aaron Sorkin, LeBron James and Matt Damon - who "comes and just kills it," according to Kevin Dillon - to make cameos.
Neither Chase brother will find love. Adrian Grenier says Vince will have "a lot of love," but we know what that translate into; while Dillon says: "Drama's love is the art. He's all about doing good movies. It's not as much fun if there's girls involved for Drama. He's gotta be obsessed with anything that's related to his fame."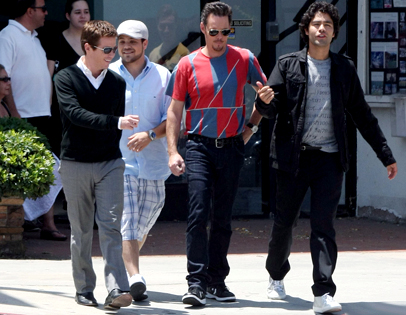 Will E and Sloan ever get together? Maybe. At some point. "There's resolution [and] unexpected surprises," Emmanuelle Chriqui says.

Will the Golds get a divorce?

Of course not. Mrs. Ari might be mad at her husband right now, but Perry Reeves says: "Ari and I are not done yet. We're still hanging in there. I could have an affair with my tennis coach, anything could happen. Right?"

Give us more of Autumn Reeser! The show sure will. Regarding her character of Lizzie Grant, the actress says: "She's hyper-ambitious and causes a lot of problems for Ari and the agency."

Will Ari lose the agency? It seems possible, if you believe Jeremy Piven. "All the seeds that I've planted unravel," he said of Ari. "The whole thing is going to be blowing up in my face, and yet the wife stands by me, and I have to borrow a great deal of money from her, so it's going to get really, really ugly before it gets beautiful."

Matt Richenthal is the Editor in Chief of TV Fanatic. Follow him on Twitter and on Google+.

Tags: Entourage, Spoilers