Bethenny Frankel nude pictures are coming... soon!
The Real Housewives of New York City star bared it all for PETA during a photo shoot earlier this week. She then spoke to TV Guide Magazine about being the star of the organization's latest "I'd rather go naked than wear fur" ad campaign.
Here's what she had to say:
On getting naked: I think it's a really amazing cause. It's very simple to say to people, "You get to make a choice, and you can choose not to wear fur. It's such a frivolous thing to do, and I used to do it. I wasn't a crazy fur-wearer, certainly - I couldn't afford it and I'm not that outlandish - but it really is so superfluous.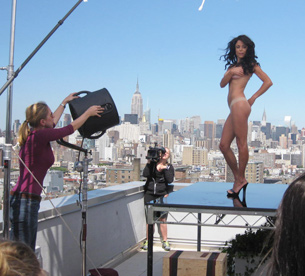 On other Real Housewives franchises: Atlanta's my favorite... my show included. It is! I think it's great. [Kim Zolciak] is like Jessica Rabbit on crack... I can't stop watching her. She doesn't edit herself, and I find her an absolute caricature, trash-tastic.

On Kelly Bensimon: It's funny, because I didn't really [feel I got] into it with her before. I just asked her a couple of questions and then looked quizzically into her face. It was a very quiet throwdown, because there wasn't that much conversation. If I interact with her, will the audience be shocked at how on a different planet she is? Very, very possibly. You never know what's going to happen when I have a conversation with her, because she may not even know we were having a conversation.

Matt Richenthal is the Editor in Chief of TV Fanatic. Follow him on Twitter and on Google+.

Tags: Reality TV