The first episode of Season Six of Grey's Anatomy is very dark, as the cast hinted and creator Shonda Rhimes has flat-out stated throughout the long offseason.
In the opinion of some, the show's executive producer may have tried to ease viewers in to a George-less Grey's Anatomy, it just wouldn't work. He was too special.
Even if there are fans who may not have liked George, in Seattle Grace, everybody liked him.
Just how beloved George was is clear in how people react to his death.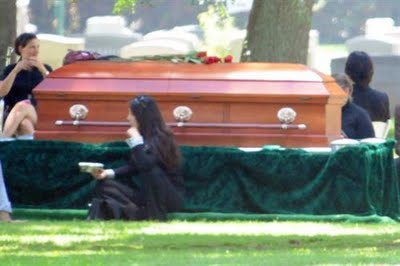 We'll save the Grey's Anatomy spoilers for after the jump. Click to read some details of what you can expect in the first episode of the upcoming season, "Good Mourning" ...
There will be:
A severed arm
A short, strange funeral scene
An appearance by George's mom
Talk about George's male anatomy
People reacting in strange, strange ways to his death.
While there were those who did the requisite crying and staring into space, Grey's Anatomy fans should watch out for one or two pronounced, life-changing reaction.

In short, the episode is all about George O'Malley, and rightly so.

Meanwhile, the person least affected with George's demise gets her own plot line. Arizona Robbins will try to do her job as virtually everyone around her is still reeling.

As seen in one of the promos, there is also the matter of the Chief and Derek in talks over the Chief of Surgery position - but "in talks" may be too soft a term.

The talk between George's mom and one of the surgeons may prove to be one of the more heartbreaking scenes in an episode that in itself is heartbreaking.

Steve Marsi is the Managing Editor of TV Fanatic. Follow him on Google+ or email him here.

Tags: Grey's Anatomy, Spoilers