Welcome to this first edition of the Melrose Place Round Table!
Following each new episode, our staff will gather and analyze the most recent developments, quotes and storylines from The CW series. We start, of course, with this week's series premiere.
Topics for this edition include new characters, Jonah and Riley, Sydney's killer and more...
Who is your favorite new character?
JonahBro: Jonah. He reminds me of an older Seth Cohen and makes me think Rachel Bilson might eventually appear on the show.
MelroseFace: Violet. Just kidding!!! I'll go with Auggie. That closing scene made me intrigued by him.
DaphneZunigaWillHaveHerRevenge: There's more than one? I was unaware that Ella had a supporting cast around her.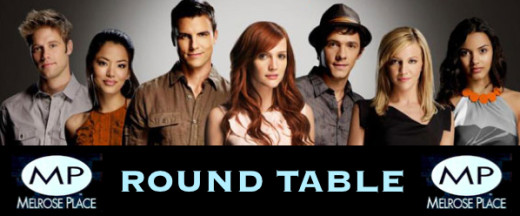 How long until Jonah and Riley break up?
JonahBro: Never! Jiley 4 eva! These two are like the Robert Pattinson and Kristen Stewart of Melrose Place.

MelroseFace: By episode four, when Jonah realizes that Riley does not look like Ella and has less personality than Andrew Shue.

DaphneZunigaWillHaveHerRevenge: Things go swimmingly until she schedules the wedding for the same weekend as ComicCon '10. Life choices ensue.

Lauren Yung: Dirty skank? Or resourceful entrepreneur?
JonahBro: She's dirty. I mean that literally. Would any patient want her hands on them, considering where they were the night before?

MelroseFace: Give the girl a break. Becoming a doctor is her dream, and who among us hasn't been paid to sleep with someone in order to make our dreams come true?

DaphneZunigaWillHaveHerRevenge: If she were a resourceful entrepeneur, she would have enlisted Jonah as her counsel. He was able to talk up $10,000 to $100,000 without having to say a word.

Who killed Sydney?
JonahBro: Violet. This may be wishing thinking of my part, as I just wanna see Ashlee Simpson-Wentz get the needle.

MelroseFace: No one. She'll clearly resurface again down the line. Like Freddy Krueger, or Stefan Salvatore, Sydney Andrews will live forver.

DaphneZunigaWillHaveHerRevenge: More important question: Who is buried in Grant Show's Tomb?

Matt Richenthal is the Editor in Chief of TV Fanatic. Follow him on Twitter and on Google+.

Tags: Melrose Place, Round Tables