Bored to Death Recap: "The Case of the Stolen Skateboard"
at . Comments
There is nothing boring about HBO's new hit show, Bored to Death. This week Jonathan tries to get a little action from a newly divorced mom, (Parker Posey) while trying to help her find her sons stonen skateboard.
George has fallen for a young woman and she is definitely not of the average sorts.
As much as Leah is against it, Ray continues to help the lesbian couple with their hopes of having a child.
Read our full summary to find out just what you are missing in "The Case of the Stolen Skateboard".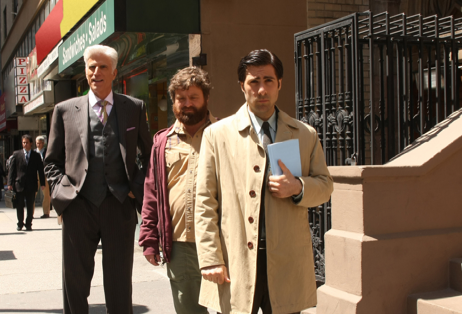 This week didn't leave you hanging in the quote department - a few of our favorites:
George: Lately, I've been going nuts over women's arms. Actually, the arm... pit. I just love it. It's this... other secret place to burrow into. But you don't have to slide far down the bed to get to it. Maybe it's laziness, I don't-- I don't know. | permalink
Jonathan: Where's Ray?
Leah: He's in the bathroom masturbating.
Jonathan: What?
Ray: I'm almost done. Just three more tugs. | permalink
Jonathan: In my heart, I'm a vegan. In my mouth, I lack discipline. | permalink
Jonathan: Leah has kids, and you guys have been together for a while.
Ray: Yeah, but that is terrible. Those kids pay me no respect. They call me fat... and hairy. You know, they could lose a few pounds themselves. | permalink
Tags: Bored to Death, Reviews
Want more Bored to Death?
Sign up for our daily newsletter and receive the latest tv news delivered to your inbox for free!
More From TV Fanatic
We don't like to gossip but there was plenty of it on The Real Housewives of New Jersey Season 6 Episode 3. We recap the rumors in our +/- review.
Jamie enlists Roy's help to clear her pro bono client with whom she has a unique bond on Reckless.
A vicious crime against the GR causes uproar. Read our review of The Leftovers Season 1 Episode 5.
It's Vegas, baby! On Halt and Catch Fire, the team heads to COMDEX to promote their PC venture. But more obstacles get in their way and a certain choice could tear the team apart.
---