Bored to Death Recap: "The Case of the Stolen Skateboard"
at . Comments
There is nothing boring about HBO's new hit show, Bored to Death. This week Jonathan tries to get a little action from a newly divorced mom, (Parker Posey) while trying to help her find her sons stonen skateboard.
George has fallen for a young woman and she is definitely not of the average sorts.
As much as Leah is against it, Ray continues to help the lesbian couple with their hopes of having a child.
Read our full summary to find out just what you are missing in "The Case of the Stolen Skateboard".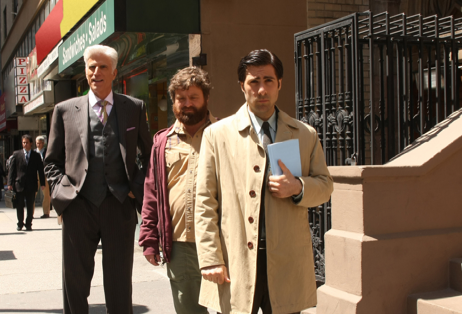 This week didn't leave you hanging in the quote department - a few of our favorites:
George: Lately, I've been going nuts over women's arms. Actually, the arm... pit. I just love it. It's this... other secret place to burrow into. But you don't have to slide far down the bed to get to it. Maybe it's laziness, I don't-- I don't know. | permalink
Jonathan: Where's Ray?
Leah: He's in the bathroom masturbating.
Jonathan: What?
Ray: I'm almost done. Just three more tugs. | permalink
Jonathan: In my heart, I'm a vegan. In my mouth, I lack discipline. | permalink
Jonathan: Leah has kids, and you guys have been together for a while.
Ray: Yeah, but that is terrible. Those kids pay me no respect. They call me fat... and hairy. You know, they could lose a few pounds themselves. | permalink
Tags: Bored to Death, Reviews
Want more Bored to Death?
Sign up for our daily newsletter and receive the latest tv news delivered to your inbox for free!