As previously reported, Elisabeth Rohm is coming to Heroes.
The former Law & Order star will appear on the show as Lauren Gilmore, a CIA agent with a major connection to HRG. What sort of connection?
She speaks about it in detail in a new interview with TV Guide Magazine. A few excerpts:
On her character: Lauren, as we meet her in the beginning, is partners with [HRG]. They work in the same company, so she sort of does what he does. She's just a bad-ass kind of guy like him, but a girl.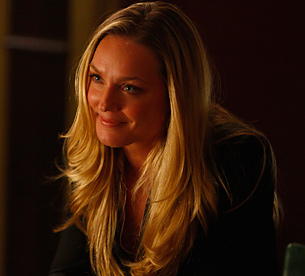 On her connection to Noah Bennet: [HRG] and I have a past, that I can't say is exactly romantic, but there's definitely love between us. There was a period in time when they were incredibly close – nothing happened but they were really close – and you could see that there was a real bond between them. [Something] was almost going to happen, but he was still married at the time. So she erases her memory of when it started to become a little hot and heavy between them.

On where the storyline is headed: What I love about the storyline, is that it's the question of soul mates. If you know nothing about somebody, do you still sense them? Once her memory is erased it's still undeniable. I think we are meant to be with certain people. Whether we remember all the details, it's just a deeper connection.

Earlier this year, Rohm guest-starred on the season two premiere of 90210.

Matt Richenthal is the Editor in Chief of TV Fanatic. Follow him on Twitter and on Google+.

Tags: Heroes, Interviews