A creepy, doll-obsessed friend of Suspect Zero?
A connection between Charlie and Dylan?
The breaking news that Demetri Noh will be murdered?
The second episode of FlashForward certainly created a series of questions for viewers of this ABC drama.
While fans scramble for answers and browse through FlashForward spoilers, our staff is taking a step back. In our the first edition of the FlashForward Round Table, we analyze various characters and developments...
Will Demetri really be killed on March 15, 2010?
Mr. BlackOut: This is really the entire question of the series, isn't it? I'm gonna assume the answer is no, but this means the future can, indeed, be altered.
AgentYes: I don't know, but the woman that said she saw his murder was played by Shohreh Aghdashloo. I'm excited to see more of that Oscar winner on the show.
The Barnacle: Nah, I'm gonna go with Demetri just passed out drunk early that night and flash forwarded to his REM-less sleep.  Eh eh?  Maybe too much of a stretch, but I just don't want to see them kill off Harold... until Obama recruits him.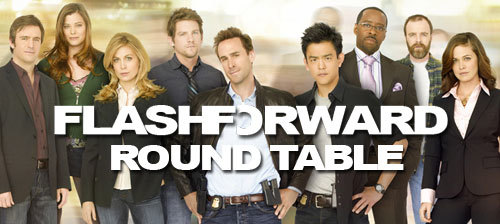 Creepier: Charlie's line about D. Gibbons, or the cupcake lady?
Mr. BlackOut: I'm scared of anyone that specializes in desserts for a living. Too much sugar can make people do crazy things.

AgentYes: Charlie! I didn't think it was possible for me to be freaked out by kids anymore; the storyline has been kinda played out in movies. But even Charlie's reaction to Dylar gave me goosebumps.

The Barnacle: You kidding me?  I was craving a red velvet cupcake from her.   On the other hand, Charlie manages to freak me out in a Sixth Sense kind of way every time she mutters one of her predictions.

Will Olivia be able to keep her distance from Lloyd?
Mr. BlackOut: I doubt it. Lloyd's story is simply too sad. Even last night, you could almost see her heart breaking as Lloyd detailed the death of his ex-wife and his child's autism.

AgentYes: Yes, if she truly loves Mark. But I question whether that union is solid, or if the Benfords are staying together out of obligation as parents.

The Barnacle: I don't care how many bracelets Mark burns, the future will come true no matter what path you take to try and avoid it. Charlie and Dylan will force these two parents into each others' lives time and time again, despite Olivia's intentions.

Who is your favorite character so far?
Mr. BlackOut: Demetri. His reactions to his vision seem to be the most human and I'm intrigued by how he'll handle supposedly imminent death.

AgentYes: I really liked the polcewoman in Utah that was killed. But I'll go with Aaron. He has the best perspective on the entire thing so far.

The Barnacle: Definitely Olivia, but for all of the wrong reasons.  She's quite easy on the eyes and, hey, who knows, maybe next FlashForward she'll see herself with me.

Matt Richenthal is the Editor in Chief of TV Fanatic. Follow him on Twitter and on Google+.

Tags: FlashForward, Round Tables