On season two of 90210, Adrianna has longer hair, fewer drug problems and no buns in the oven.
As her character has grown on The CW hit, Jessica Lowndes has found herself in the spotlight. She recently spoke to The Los Angeles Times about life on the series:
On becoming a series regular: When I signed on, I was only supposed to be in the first two or three episodes. Next thing I know, my character had a pregnancy and a drug addiction, and I was offered a series regular. I'm still pinching myself because this is so much more than I even thought was possible.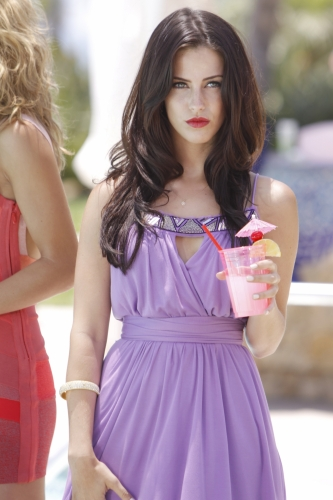 Do you like Adrianna's new look? Sound off in our 90210 forum!

On her hair: Before I booked the show, I had really, really long hair. And they told me that the only way to get the part was to cut all my hair off and get straight-across bangs [laughs].  It was a very intense look, but it worked perfectly for my character.

Last year, she was the type to want everything perfect and she was under a lot of pressure. We wanted her to be sort of hidden by those bangs at the beginning and be unassuming. As my character has grown, so has the hair. I love it this year. So, over the span of nine months my hair has grown quite a bit [laughs]. I'm loving it. I'm loving the new Adrianna look.

On Adrianna's love triangle: I think she's in a little bit of denial with obviously the attraction that's still there with Teddy. I think she realizes there that she still has feelings for Teddy, and Navid was right all along.

On next week's episode, Adrianna will find herself less and less able to fight off her affections for Teddy. Do you wanna see her hook up with her ex?

Matt Richenthal is the Editor in Chief of TV Fanatic. Follow him on Twitter and on Google+.

Tags: 90210, Interviews