As we noted earlier in our review of "The Wine Festival," there's a lot going on with the Walker family these days, from life-changing decisions to critical business dealings.
Below, our staff members analyze and discuss some of last night's developments in our Brothers & Sisters Round Table. Here's our panel's take on some key topics:
1. What was your favorite Brothers & Sisters quote from the episode?
The Barnacle: Any exchange between laissez-faire Scotty and OCD Kevin re: the egg donor. You knew they would approach it that way. Love that Kevin came around.
Dr. Shepherd: Robert telling Kitty that he loves her for reasons that have nothing to do with her hair. I would watch the show if it focused solely on Robert's political career, but was great to see their story line focus only on their love/marriage for a change.
M.L. House: Nora's "this is the box I live in" speech to Simon. You go, girl!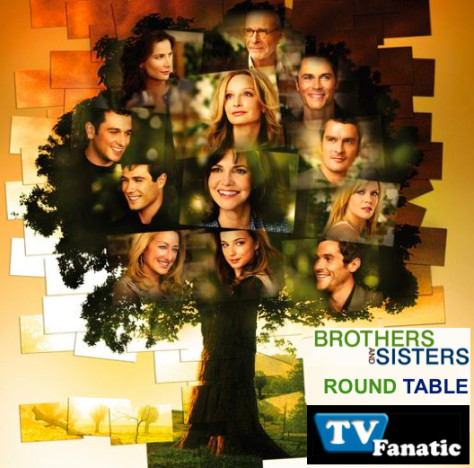 2. Were you sad to see Luc go back to France?


M.L. House: They had great chemistry, no doubt about it, but they were too different, from their culture to what motivates them in life. All good things come to an end.

Dr. Shepherd: Very. I loved how Sarah tried to see things from his point of view and really wanted to make it work. Disappointing that he didn't reciprocate the effort.

The Barnacle: Eh, not too sad. Since I knew from all the Brothers & Sisters spoilers that Gilles Marini wasn't sticking around, I found it hard to get too attached to Luc.

3. How much do you love Nora?


The Barnacle: More every week! Life begins at 60!

M.L. House: A lot more now that she's doing her own thing. It's been too long since Nora had a story that wasn't tied to one or more of the kids. It'll be interesting so see where this thing goes with Simon. He is quite dreamy.

Dr. Shepherd: I loved her at the wine festival when she spontaneously blurted out to her jealous counterpart (Serena's grandma on Gossip Girl) that she and Simon were together. Part bragging, part insecurity, part nervousness. Vintage Nora.

4. Should Rebecca tell Justin she's pregnant?


The Barnacle: No. He clearly doesn't want to make time for her anyway. She needs a more attentive guy who worships her beauty. Ditch that guy and call me, Rebecca!

M.L. House: Of course! Yes, Justin said he doesn't want kids. That will change instantly if he learns the love of his life is pregnant. What are you waiting for, girlfriend?

Dr. Shepherd: She has to ... right? She's waiting for the right time, but there will never be a right time. Just like you can never be ready to have children, but on the flip side, you're always ready. Once Justin finds out, his priorities will be in line with hers ... if he gets the chance. I hope she doesn't do something rash without telling him.

5. Can Ojai recover from Ryan sabotaging it?


Dr. Shepherd: On a logistical note, how could he realistically drain ALL the wine by himself? How long does it take to produce more? If the reviews were as good as we're led to believe, they should be able to buy more time and make another batch - and catch Ryan!

M.L. House: You hope this isn't the end of the road after they worked so hard and everyone got behind this idea. I can't believe I'm saying it, but I feel really bad for Holly.

The Barnacle: I don't know, but that Robert Pattinson knockoff is so conniving and evil he makes my skin crawl. I realize the Walkers need an adversary but I despise him.

Steve Marsi is the Managing Editor of TV Fanatic. Follow him on Google+ or email him here.

Tags: Brothers & Sisters, Round Tables