Christine Woods Previews Possible Changes on FlashForward
by Matt Richenthal at .
Christine Woods plays Janis on FlashForward.
A couple weeks ago, the character was gunned down on the street and we surmised that it would help shake the series up if Janis died, thereby proving that not all future visions come true.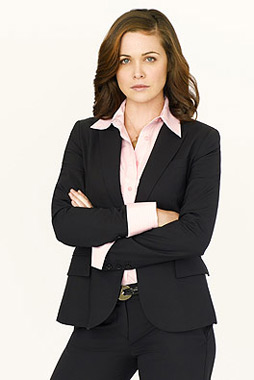 Janis is alive and almost fully well, though - but her co-worker Al jumped to his death last week. How will this affect the show? Woods spoke to TV Guide about that storyline and more:

On the fallout of Al's death: "In terms of the flashforward and changing the future, he gave us a lot of hope. It's sad in a sense that he's gone, but now things could possibly change."

On the return of Janis: "She'll be back this week. She is back at work, business as usual. She's a little taken aback by what's happened with Al. I think that when you almost die, you question a lot about: 'Am I in the right job? Do I have the right life choices? Am I doing the right things with my life?' She questions, but she stays at work."

On Lloyd and Simon: They're the delicious center of the cookie but you see a lot more of them coming up. [Fans will] feel satisfied with how much you get to know them in the next few episodes.

On FlashForward spoilers: "We pump them for information constantly. I think sometimes they just lie to us to put us off the scent a little bit."

Matt Richenthal is the Editor in Chief of TV Fanatic. Follow him on Twitter and on Google+.

Tags: FlashForward, Interviews
From Around the Web