Welcome, Gossip Girl fanatics, to the 78th week of the Gossip Girl Insider Caption Contest, our Friday tradition and one of our favorite features!
This week's winner? Samantha. Congratulations!
The winning entry appears below the photo.
Honorable mentions go out to Lively Leighton, Ruben and GossipSweety. Thank you to all for playing and best of luck again next week!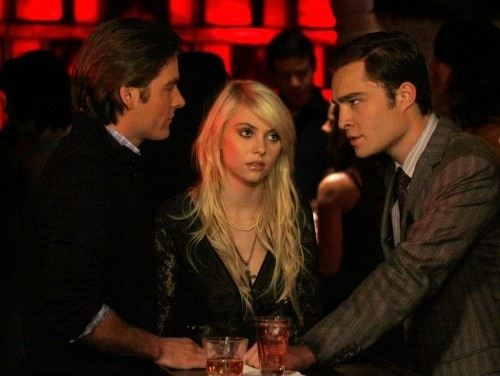 Chuck: Can't you see its a raccoon?
Damien: No, its obviously a vampire.
Chuck: Its a raccoon. Don't you see the huge black circles around its eyes?! It must have wandered in from Central Park.
Damien: Don't YOU see its wearing all black and looks as pale as Edward freaking Cullen?!
Jenny: Guys, its me. Jenny.
Chuck: The raccoon can talk!


Steve Marsi is the Managing Editor of TV Fanatic. Follow him on Google+ or email him here.

Tags: Gossip Girl, Caption Contests