While our The Grandfather: Part II" include classic lines, political drama, choosing sides, dubious events, and next week's "OM3" moment ...
~~~~~~~~~~~~~~~~~~~~~~~~~~~~~~~
1. What was your favorite Gossip Girl quote from the episode?

DANdy: Vanessa's stinging critique of Nate and his lost "moral compass" forced me to look in the mirror and re-examine my life. Is it best spent cracking wise about a drama on The CW? Thank you, V.
Gossip Guy: I'm not sure if it was the quote or the whole scene, but when Blair called Serena out for being a prostitute and S responded by shoving her face into the cake? So Gossip Girl, so awesome.
Mister Meester: Dan, in response to his sick sister coughing, saying that he needs a SARS mask. Only Dan would bust out a 2003 news story reference in the midst of the current, more severe H1N1 flu pandemic.
2. Team Serena or Team Blair?
DANdy: Team Serena. I was on Team Blair until The CW previewed Leighton Meester's "Somebody to Love" music video. Yikes! The only thing she should be doing in the back of limos is straddling Chuck.
Gossip Guy: Sorry Blair, I'm gonna have to go with the boobs on this one. Plus Serena really didn't do anything that wrong in my opinion and did apologize to Blair. Did I mention she has a great rack?
Mister Meester: Team Blair. Yeah, she's being a little too hard on S, and considering this is a frenemy fight that will be resolved eventually, she wins by virtue of having the best zingers. Plus, look at my username. I'm biased.
3. The political plot: compelling or confusing?

DANdy: Confusing. Why did Tripp just sit there and listen to Serena talk instead of making a move? I didn't understand it at all.
Mister Meester: Both. I loved the side of Nate it brought out and was genuinely happy Tripp won. As far as Maureen's involvement, did she really risk Tripp's bid for Congress on a crazy stunt designed to tarnish his grandfather? And it worked?
Gossip Guy: Now that it appears to be over, I'm okay with it.
4. Should Nate run for public office someday?
Gossip Guy: Hmm. After publicly admitting he pulled a giant political scandal for his cousin? I'm thinking that career was dead before it even started. Plus we all know politics isn't a place for a man with a moral compass.
DANdy: As what? The Public Liason in Charge of Good Hair and Not Smiling? No.
Mister Meester: Not only does Nate grasp the cardinal rule of politics - that everything's okay if you just admit you did it - scandals simply don't stick to this guy. He's essentially been a prostitute, and gotten with every girl on the show, yet they keep coming back. Plus, the bangs. No undecided voter can resist.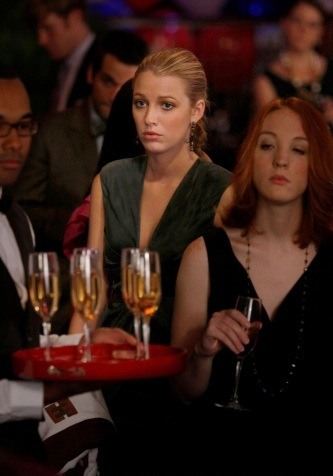 Serena wears a confused expression. Possibly at our fourth question.


5. Hardest to believe: Tripp's wife orchestrating that scheme, Olivia worrying so much about a pretty innocent story, or Jenny not wearing makeup?

Gossip Guy: OMG that was Jenny? I was wondering who the little sick blonde girl was ...

Mister Meester: I put nothing past any of Nate's relatives, so I'm taking Olivia. That story wasn't that embarrassing, nor is Dan that uptight. Okay, he can be, but still, I was disappointed when I heard "Bathroom Boy" wasn't code for something much more interesting.

DANdy: Jenny and her lack of makeup. The CW clearly doesn't care about raccoon viewership, as those animals must have tuned out the instant one of their own was no longer featured on the show.

BONUS QUESTION: Obligatory threesome question: Who do you think takes part?

Mister Meester: Via process of elimination and our readers' sleuthing, it can only be Dan-Vanessa-Olivia. Right? I'm sure my colleague Gossip Guy will be devastated by such a development, but I don't see how I'm wrong.

DANdy: I foresee Olivia with a need to practice for an upcoming movie role; Vanessa in possession of a camera; and Dan with a penis. I can say from experience, those three things are really all it takes.

Gossip Guy: Wishful thinking? Serena-Blair-Olivia. I assume they're going to want some sort of man in there, so if we need to take someone out, it's gonna be newcomer Olivia. I think the natural guy to throw in is the guy who's already had experience with both women and is by far the best looking man on the show, err, planet. Nate.

~~~~~~~~~~~~~~~~~~~~~~~~~~~~~~~

What is your take on these hot Gossip Girl topics? Leave a comment with your answer(s). We want to know what you think!


Steve Marsi is the Managing Editor of TV Fanatic. Follow him on Google+ or email him here.

Tags: Gossip Girl, Round Tables