How I Met Your Mother Creator: Barney & Robin Split For the Greater Good
by Steve Marsi at .
As we discussed in our "Rough Patch" Round Table, some fans felt How I Met Your Mother's decision to bring the Barney-Robin love story to an end was premature and sad.
Co-creator and executive producer Carter Bays insists the romance was sacrificed for the greater good, though, and that would be the preservation of a legendary ladies' man.
"None of us wanted to see Barney wearing a sweater-vest and going to bed-and-breakfasts," says Bays, adding that it makes sense the relationship would "flame out fast."
Despite fans' attachment to the two as a couple, and the characters' obvious attachment to each other, Bays says "neither of them, at their core, wanted to be tied down."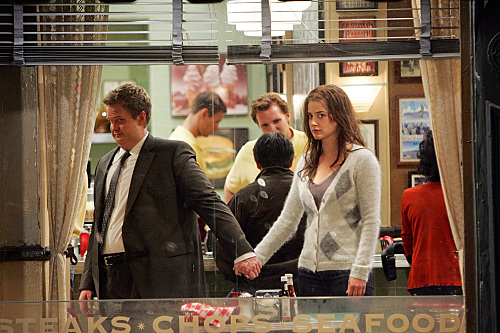 Relationship guts and all, Barney and Robin called it quits.

And who's to say they won't try again? "[They] could get relationship amnesia and decide, 'Hey, this is a good idea!'" he says. "This could be the first of many flame outs."

"I don't want to say reconciliation. But the story is not over, for sure."

Just like old times, the Barnacle was back to his old tricks (literally) in this week's episode, "The Playbook." It was entertaining, even if you missed him being with Robin.

Bays believes viewers prefer single Barney to attached Barney: "It's one of those things where you can give people what they think they want, or what they really want."

What do you think? Is he right? Which do you prefer ...

Steve Marsi is the Managing Editor of TV Fanatic. Follow him on Google+ or email him here.

Tags: How I Met Your Mother
From Around the Web