It was a day no one saw coming. Okay, we did, but not so abruptly. Last night's How I Met Your Mother episode, "Rough Patch," centered around Barney and Robin's bittersweet breakup.
Below, our staff members break down our favorite TV couple's breaking down and much more in our inaugural How I Met Your Mother Round Table. Let's get to it ...
1. What was your favorite How I Met Your Mother quote from last night?

M.L. House: It was more a collection of quotes than one line, but the entire sequence on the "stakeout" - with Marshall constantly complaining about their lack of van, with the faux storm trooper and Alan Thicke of all people along for the ride - slayed me.
Dr. Shepherd: Flashback Barney berating Ted and his then-girlfriend: "Your girlfriend? She's your girl.. friend? She's a girl and a friend? Do not humanize the enemy, Ted!"
The Barnacle: Definitely Barney's entire prerecorded message on the ArchiSEXture. I'll go ahead and copy and paste that one from our amazing collection of How I Met Your Mother quotes for you viewers: "Hello, Ted. If you're watching this tape, and I knew you'd pick this one, you're now in possession of my porn. And this can only mean one of two things: either I'm dead or I'm in a committed relationship. If I'm dead I want you to honor my memory by taking my body to the Hamptons and recreate Weekend at Bernies. I want to dance, go fishing, and I want to have sex with a girl. If on the other hand I'm in a committed relationship, as your best friend I have only one request... for the love of god get me out of it."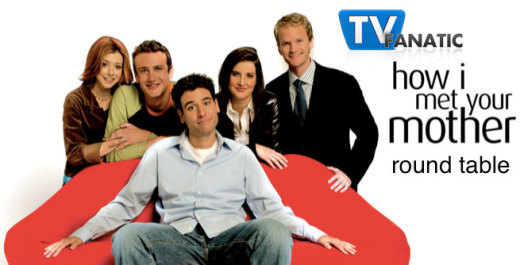 2. Are you sad Barman and Robin are no longer together?

M.L. House: As Barney said at the end after suiting up, "Daddy's home." It's about time. I never really bought them as a couple. The writers need to let Barney be Barney!

Dr. Shepherd: They said the relationship ran its course, but did it? Things were just getting good! I loved these two together, even if it altered the show's dynamic. I'm surprised the show pulled the plug on this after building it up throughout Season 4 and barely letting it develop.

The Barnacle: While I'm extremely sad to see one of television's most awesome couples break up, I'm thrilled to see the most legendary bachelor back on the prowl.

3. Barney in a fat suit: cheap gimmick or good comedy?

M.L. House: Fat Barney was classic, although he might have been better suited to one fantasy/dream sequence (like, say, Mustache Marshall), not the majority of the night.

Dr. Shepherd: Funny at first, but a bit overdone. Neil Patrick Harris is so brilliant, he could have convinced us Barney was letting himself go without such a gimmicky, sitcomy gag, and one that took over an episode that could have been better without it.

The Barnacle: Just plain amazing comedy. I can't believe how much time NPH must have sat in makeup just to get a few good chuckles out of us. And wow, I hope for his sake the guy always stays in good shape. He is not a good looking fat man.

4. Which do you want to see more, the conclusion of ArchiSEXture, The Fat Guy and the Old Lady, or Alan Thicke and Robin's failed Canadian variety show?

M.L. House: Um, hello, what about Squat!? That sounded really good. Bet it had a truly dynamic plot line for an adult film. Wonder what the title is referring to ...

Dr. Shepherd: Although I felt this episode was mediocre overall, I nearly died when Ted popped in the ArchiSEXture tape and saw Barney's prerecorded message ... and that he had a girl with him of course. Even Lily wanted to see what happened next!

The Barnacle: Ooh that is tough, as an avid fan of Robin Sparkles, I cannot wait to see Alan Thicke and Robin's variety show. Go uncover that thing now Barney!

Steve Marsi is the Managing Editor of TV Fanatic. Follow him on Google+ or email him here.

Tags: How I Met Your Mother, Round Tables