Did Heather Locklear's return to Melrose Place live up to the hype?
Are Riley and Jonah the most boring couple on television?
Just how hot was the Auggie/Violet sex scene?
Our staff answers those questions and more in this edition of the Melrose Place Round Table. We encourage reader feedback on all the topics below...
Grade the return of Amanda Woodward.
M.L. House: N/A. This is like grading the President after 100 days in office. Sure, Amanda delivered the occasional bitchy line and it was great. But until we see where the show is going with her character, it's too early to judge.
Dr. Shepherd: A. This is Melrose Place. Like Gossip Girl, when it loses its edge, its other flaws are hard to ignore. What is a prime time CW soap when its plot lines and characters are boring (see question #2 below)? Enter Heather Locklear. She actually lived up to the hype and Amanda's whirlwind, take-no-prisoners return gave the show a shot in the arm last night.
The Barnacle: C. As in: I was happy to see her on the show again!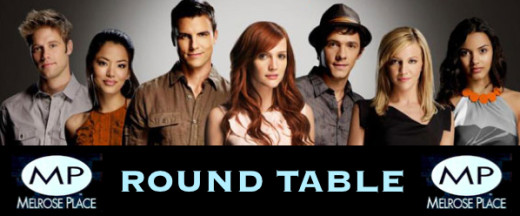 Riley and Jonah: sweet and loving? Or lame and boring?
M.L. House: It is possible to make viewers interested in a a dedicated, loyal couple. Just look at Eric and Tami on Friday Night Lights. But that requires great acting and solid storytelling. Seeing as Melrose Place showcases neither of these elements, we really need Riley and Jonah to break up, make a sex tape or do something interesting. Soon.

Dr. Shepherd: They're certainly both, and that's an issue. The show needs a (small) moral compass, yes, but what happened to the tension between these two that has been building for weeks? It wasn't present at all last night, just one week removed from when things started to get interesting with Ella blatantly coming on to Jonah.

The Barnacle: Zzzzz. Riles, get off your high horse. It's modeling. Everything's superficial, even bios.

Hottest X-rated scene: Ella and the female agent; Violet and Auggie; or David and Lauren?
M.L. House: David and Lauren! OMFG! I know Lauren is used to receiving money in exchange for sex, but I'd have paid David to bang me after that display of seduction.

Dr. Shepherd: Hottest? Ella's girl-on-girl action, no doubt. I needed a cold shower after that one. Most unintentionally funny? That goes to Augolet. You gotta love her measure of last resort - getting topless - to save him from falling off the wagon. You also got the sense that rather than hooking up because it might lead to something, there was merely no reason for them NOT to bone since they just got fired.

The Barnacle: Ella is a woman. That agent was a woman. What else needs to be said? This is the dumbest question ever.

To what is Sydney referring in her note?
M.L. House: Some major cash. I read somewhere that Amanda is in trouble financially and she was likely counting on a former stash of money to bail her out.

Dr. Shepherd: No clue. Which is great. Glad they're potentially introducing another ongoing mystery to play out after the murder plot is tied up.

The Barnacle: Amanda's morality. It's gone forever.

Matt Richenthal is the Editor in Chief of TV Fanatic. Follow him on Twitter and on Google+.

Tags: Melrose Place, Round Tables