For a quote-unquote procedural military crime drama, NCIS has some pretty awesome characters. This was our lasting impression from last night's terrific episode, "Endgame."
Case in point: Leon Vance.
The NCIS director may not strike you as particularly interesting at first glance, but the back story and family components we were introduced to last night left us wanting more.
Vance and his weird connection to North Korean sniper Kai, who killed his partner in 1992, fueled the episode, which ended with the two facing off, guns drawn, at his house.
Despite dreaming of taking her out for 17 years, he couldn't do it following Gibbs' revelation that Kai was merely out to punish the North Koreans who made her what she is.
Kai was basically on a suicide mission, and after killing two men in the U.S. responsible for her assassin training (thus sparking the NCIS investigation), she came to Vance.
She needed closure based on their connection, and Vance's effort to avenge his partner. But it was his wife Jackie who unexpectedly iced her during the dramatic standoff.
Jackie was awesome, and not just because of that shot. The way she refused to back down from the threat posed by Kai throughout the episode told us a lot about Vance.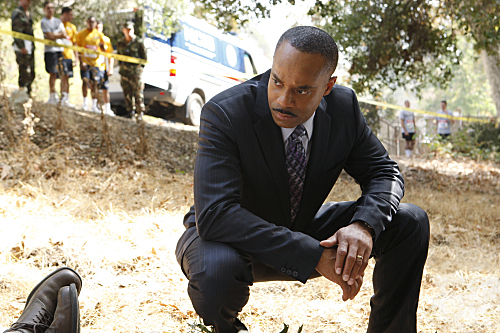 Rocky Carroll was terrific last night as NCIS director Leon Vance.

Sean Murray also shined last night as "Probie" Tim McGee, whose burgeoning romance with coffee shop girl Amanda served as both a sweet sub plot, and later, a surprising twist.

There couldn't have been a viewer out there who wasn't happy for cute-but-awkward Tim for getting this adorable redhead, and if you saw her as a spy coming, we're impressed.

Everyone was happy for McGee, especially Abby (who even managed to sneak in her own feelings for an

NCIS: Los Angeles

guy, plugging the upcoming

Pauley Perrette crossover

).

Even Tony and Ziva were thrilled for Tim ... or as thrilled as Tony can be without sounding jealous, annoying and condescending. But that's just Tony being Tony, and we love him.

But despite being smitten, Tim was sharp enough to pick up on something suspicious. Amanda visited him at work at night to say hi. But he never actually said he worked at NCIS.

McGee was getting played. When he brought this up, Amanda revealed herself to be a South African assassin working to hunt down Kai on behalf of the North Korean government.

Of course, Kai gunned her down, and spared a shocked McGee, as soon as you could say "What the ..." Poor Probie. Things were going so well for him. Great setup by the writers.

One last highlight: Tony and Ziva in the bathroom, Take II. Smart-aleck DiNozzo was in rare form last night, even for him, and his restroom razzing of her was the coup de gras.

Steve Marsi is the Managing Editor of TV Fanatic. Follow him on Google+ or email him here.

Tags: NCIS, Reviews