It took weeks of frustration, inconsistent character development and slow-moving storylines, but FlashForward finally followed up on its incredible pilot this week.
The episode "A561984" was exactly what the series needed, especially as it now heads into an extended hiatus that lasts until March.
We never thought we'd say this a week ago, but we're suddenly anxious for the drama to return, as it left us with actual, intriguing cliffhangers. Below, we sum up why this was - by far - the season's best hour of FlashForward...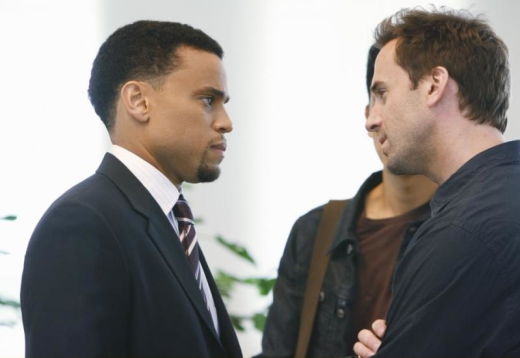 Hello, world: The show finally gave us an idea of the global scale of panic and violence that has resulted from the blackouts. For too long, it had centered on personal storylines (Mark's drinking, Janis' pregnancy) that were difficult to care about in light of 20 million deaths. Olivia's possible affair with Lloyd was still a focus this week, but only within a much larger, more dangerous context.

Welcome, Michael Ealy: As a foil for Mark, the character delivered instant charisma and intrigue. It's a problem for the series that Marshall Vogel already seems like a more interesting individual than supposed hero Mark Benford, but we're excited about Ealy's long-term presence on the show.

A return to Somalia, D. Gibbons: Again, "A561984" got right to the heart of the blackouts. We saw D. Gibbons; we visited Somalia. We spent time with characters that cared about solving the greatest catastrophe mankind has ever seen, instead of whining about their visions. If FlashForward can continue to intertwine the personal with the global, it may really be on to something.

More Simon, please: A mysterious, shady scientist that offers nothing but mysterious, shady lines of dialogue? Boring, cliched. A mysterious, shady scientist that works with the FBI and is intent on tracking down the person that stole his design and may have caused a previous blackout in 1991? Fascinating.

What did you like about this episode? Are you as excited about the show's March return now as we are? Follow the jump to watch ABC's preview of FlashForward in 2010...

[video url="http://www.tvfanatic.com/videos/2010-preview/" title="2010 Preview"] [/video]

Matt Richenthal is the Editor in Chief of TV Fanatic. Follow him on Twitter and on Google+.

Tags: FlashForward, Reviews