Jessica Szohr appears on the cover of February's Teen Vogue.
The actress is often the target of scorn from Gossip Girl fans, if only because her character, Vanessa, is probably the third-year show's least popular.
That's putting it politely.
She also breaks the hearts of many teenage girls by being co-star Ed Westwick's real-life girlfriend. The cuties have been dating for about a year now.
Jessica says it's a challenge, since they were best friends first.
"It can be a little awkward when all of a sudden [you have feelings for] a friend; someone you'd call to talk about a different boyfriend," she confesses.
"But there wasn't a lot of thinking and talking. It kind of just happened. We had fun together, and we were like, 'All right, let's see where this goes.'"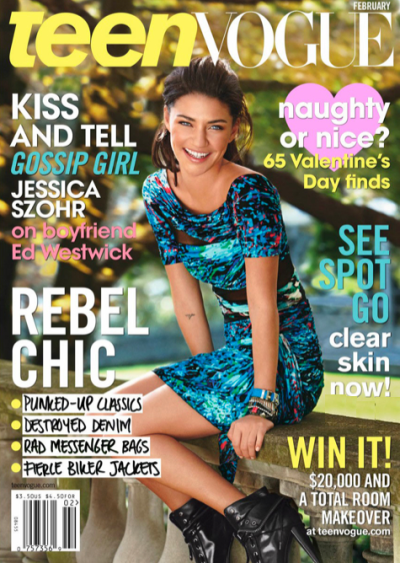 Jessica Szohr looks lovely on the cover of Teen Vogue.

Ed Westwick is a "really rad guy," the Gossip Girl star adds. "He's awesome, smart and talented and adorable, and we make each other laugh."

They don't have Valentine's Day plans yet - last year they went to Jamaica with Leighton Meester and Sebastian Stan - but they'll have fun regardless.

"We go to dinners, have nights by ourselves and fun romantic times in general," she says. "And a lot of times I like just cuddling up on the couch."

Aww. Ed is a cuddler, who knew?

Jessica says going out in public with Ed can be difficult because of his distinct, recognizable appearance. "That's Chuck Bass!" is frequently heard.

As for Szohr, she often hears from people on the street that she "looks a lot like Vanessa from Gossip Girl." LOL. Her response? "Yeah, I get that."

Follow the link for her full interview with Teen Vogue, and check out some more of the pretty photos of the 24-year-old actress right here ...

Steve Marsi is the Managing Editor of TV Fanatic. Follow him on Google+ or email him here.

Tags: Gossip Girl