On season four of Dexter, John Lithgow's Arthur Mitchell was a man of many, creepy words.
But in an interview with TV Guide this week, when asked about the stunning turn of events that concluded the season, Lithgow only needed one adjective to describe the finale: wow.
The actor, who was nominated for a Golden Globe for his portrayal of the Trinity Killer and is a lock for an Emmy, expounded on that a bit as the Q&A continued. Excerpts are below...
On Arthur's death: [The writers] changed things based on how the first several episodes went. I know they had long discussions: "Should we let Arthur get away, disappear for a season and then come back again?" That's what they did with Keith Carradine and it was incredibly effective. I think Arthur was so bad that they knew blood had to be spilled, especially when they came up with the final image of the episode. What an appalling, unforgivable thing to do. There had to be retribution.
On returning as a ghost next season: Nobody has said anything. I think it's best because you couldn't possibly top this season and this character.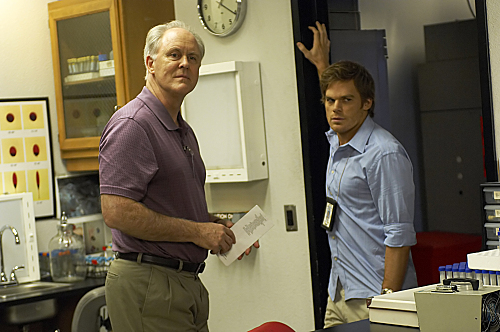 On his favorite scenes: They all involve Michael C. Hall. Michael is a marvelous acting partner. The scene that begins the final episode, where I speak to him in that huge crowd and I know I have him exactly where I want him. I loved that scene. He was so great at working out the rhythms and finding the real meaning when the scene shifted.

I loved my death scene with him and that appalling moment where I learn my own daughter committed suicide. It's very unusual for a character that despicable to have a moment like that, a moment of such pain.

On Arthur's death: The character himself knew he needed to go. He was almost begging Dexter to do it. Look, he tried to commit suicide three episodes before. He knew this had to stop. If nobody else is going to stop me, I have to stop it myself. It's fascinating.

It truly was. Now it's your turn to speak out, readers: were you happy to see Rita get killed?

Matt Richenthal is the Editor in Chief of TV Fanatic. Follow him on Twitter and on Google+.

Tags: Dexter, Interviews