Due to the download of an updated Intersect to conclude season two, everyone's favorite spy grows into a serious player this year on Chuck.
Portrayer Zachary Levi describes his new character as a "little Neo-Matrix." How does producer Josh Schwartz explain the changes made to the show's title character? And what else is in store on season three?
Excerpts from Schwartz's interview with TV Guide shed a lot of light on the upcoming season of Chuck, which debuts on NBC on January 10...
On the season's overall arc: It was boy becomes man last year, and this year it's man becomes spy. It's really about Chuck accepting and wanting to do this thing and stepping up into the thing that he felt like he was thrust into.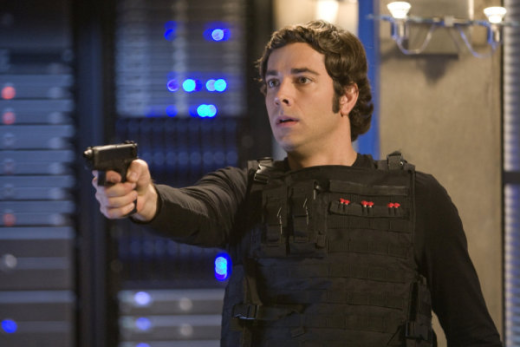 On the affect on Chuck's family: That's really going to be at the forefront this year. Captain Awesome found out last year and he's going to be thrust into this world to a much higher degree than even Chuck anticipated. We get to see how awesome Awesome really is.

On Intersect 2.0: Chuck does have new powers that he didn't previously have before. The Intersect computer was designed to go into someone like Bryce Larkin, an emotionless, professional spy, in order for it to run smoothly. Chuck is anything but emotionless. Sarah can be his kryptonite at times, and then to mix metaphors, she can also be his can of spinach. It obviously complicates the romantic side of their relationship.

On Chuck and Sarah: When we start off the season, it's very clear that something traumatic has happened between Chuck and Sarah in the intervening time. You'll eventually see what that was. As they start to realize that she is at the heart of whether or not he operates properly as a spy, it only complicates the relationship further.

** TV Fanatic will cover Chuck in depth - with recaps, reviews and the latest quotes/photos - when the show returns.

Matt Richenthal is the Editor in Chief of TV Fanatic. Follow him on Twitter and on Google+.

Tags: Chuck, Interviews, Spoilers