The following review takes place between 7:32 a.m. and 7:49 a.m. Words are written in real time...
As always, the clock was ticking this week on 24 - but the action was ratched down a few notches and replaced with character study/progression. It was a nice change of pace.
First, let's check in with Dana. We mean Jenny. We mean this season's most distracting B storyline. Fortunately, instead of another hour of threats made to expose her past, shady ex-boyfriend Kevin made his demands clear last night: get me a lot of money via your cool, insider job and I'll disappear. Naturally, Dana wasn't enthusiastic about this plan, but we have a feeling it will lead to another CTU agent raising suspicion at work by acting in his/her own self interest.
We've been there before, highlighted by Tony helping a villain escape in season three in order to spare Michelle's life. Man, we miss those two.
Second, let's move to the Russian brothers with a worse fatherly role model than Michael Lohan. It was nice for Josef (David Anders) to wanna help his brother survive and all, but are viewers supposed to sympathize with these men? For now, the plot seems like another way to kill time in between Jack/Renee exploits.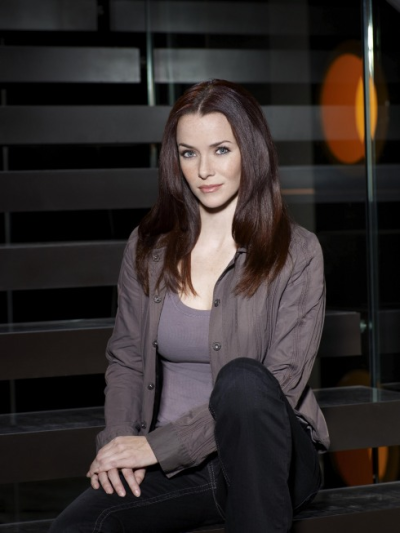 Next, though, we have nothing but positive things to say about the Hassan vs. President Taylor stand-off. This came across as a true moral dilemma for the leader of the Islamic nation. How do you maintain power at home without using force... while trying to set an example of peace in the region? It's also exciting to see the show utilize Cherry Jones in a more forceful manner. She's too great of an actress to have her express nothing but shock or acquiescence at developments around her.

Finally, we come to Renee. It is worth noting, one more time, that the show has clearly taken creative liberty with her character. There's no way the straight-laced FBI agent we met last season had a history of undercover work that included an abusive relationship with the Russian mob boss.

Still, if we overlook that hiccup, we must give kudos to Annie Wersching. She's doing a great job selling Renee as a truly damaged individual.

Also, for a show that typically goes at breakneck speed, we welcomed the chance to watch Renee take a full episode to infilitrate her way into the underworld. It made sense on a storyline level and it added gravitas to both Renee's character and Jack's relationship with her.

Would we prefer Jack Bauer in the field than in his car for an hour? Of course. But we'll get plenty of that. This week's installment gave viewers a chance to sit back and watch this action hero react to a helpless situation involving someone he cares about.

BELOW, WE GIVE THE EPISODE A RATING AND PREVIEW NEXT WEEK'S NEW HOUR OF 24.

Check out the official Fox promo for the

February 1 episode

now!

Matt Richenthal is the Editor in Chief of TV Fanatic. Follow him on Twitter and on Google+.

Tags: 24, Reviews