As we said in our review of "A Bone to Pick," Brothers & Sisters was at its cheesiest and best last night as Kitty Walker endured a bone marrow transplant and survived.
Below, our staff members analyze and discuss last night's developments in our weekly Brothers & Sisters Round Table. Here's our panel's take on some key topics:
1. What was your favorite Brothers & Sisters quote from the episode?
The Barnacle: Had to be this exchanged started by Saul: "This wedding is more cursed than Liza Minelli's." Kevin: "That is the gayest thing you've ever said."
Dr. Shepherd: Sarah: "You pulled a Monica Lewinsky?" Kitty: "NO! We never got caught."
M.L. House: I confess. I'm a sucker for Robert's proposal to Kitty and her response. I watched it 2-3 times and it moved me each time. Oops, was that out loud?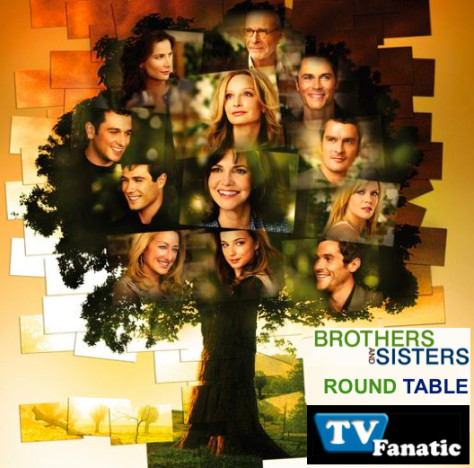 2. Did you think Kitty was going to make it?


M.L. House: Naturally, she survived, and naturally, Ryan was the only one who could save her. This was all very predictable and while that can get annoying, it doesn't make the acting of Sally Field, Rob Lowe and Calista Flockhart any less masterful.

Dr. Shepherd: Brothers & Sisters spoilers would have predicted a Kitty demise and did not. Plus you know that miraculous recoveries are what this show deals in.

The Barnacle: LOL. Of course they're not going to kill her off, which made her collapse on the beach almost unintentionally funny. Almost equal in terms of eye-rolling material was that it was for an unrelated lung clot and not even related to her cancer.

3. Who did Kitty sleep with?


The Barnacle: It had to be Bill Clinton. Who else would inspire such shock? The timeline would work for such dalliances, and come on. You know how the Big Dog is.

M.L. House: Newt Gingrich? Bob Dole? Jack Kemp? John McCain? Any number of prominent GOP figures of the 1990s would fit and would be "pretty famous" enough.

Dr. Shepherd: Kind of lame of you not to tell us, but that was really a vehicle with which to show Kitty is a new person now, and is therefore better left anonymous.

4. Did Robert make the right decision?


The Barnacle: No. Well yes. He's a good guy and blah blah blah. But I love me some political trench warfare and would've loved to see Governor Robert McAllister!

M.L. House: Definitely, and I've loved the evolution of Robert lately. Amazing that it took something so tragic to make him realize what his priorities needed to be. 

Dr. Shepherd: Yes, but I wasn't a fan of how it was revealed via the press conference three weeks later that Kitty kicked the cancer (happy as I am that she did).

5. Will Ryan go down for the winery sabotage?


The Barnacle: I hope so. A little bone marrow goes a long way, but the punk still has to pay the price for potentially sending Holly and Ojai into the poor house.

M.L. House: Interesting how that was left up in the air. Now that he's had a change of heart about the Walkers, will Ryan come clean and try to make amends?

Dr. Shepherd: This story line can't be over. Holly's onto him and my guess is the police will soon be as well. If he leaves town it will only make him look worse.

Steve Marsi is the Managing Editor of TV Fanatic. Follow him on Google+ or email him here.

Tags: Brothers & Sisters, Round Tables