Kim Raver joined the cast of Grey's Anatomy this week, sparking a wave of discussion over where her character, Teddy Altman, leaves the future of Owen Hunt and Cristina Yang.
Believe it or not, there are other Grey's Anatomy topics to be discussed as well. Namely, how Alex reacts to Izzie abandoning him. He's struggled for some time, but now, well ...
He's going to have a one-night stand.
"A lot of people do the deed" during the Grey's Anatomy / Private Practice crossover episodes next week, creator of both Shonda Rhimes says in the new TV Guide Magazine.
Although Alex is married, Izzie has pretty much abandoned the guy, so one can see why he'd stray. With someone who has an "e" in her first name. Any guesses there?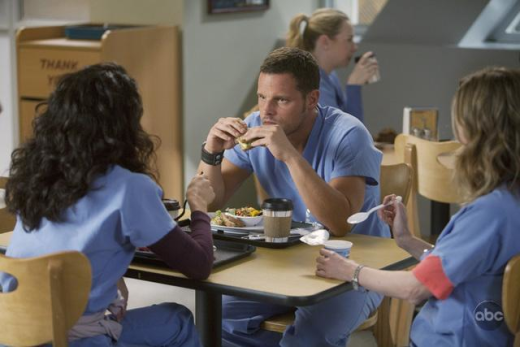 Alex has had a rough go of it lately. He'll be lashing out shortly!

Of course, this is not going to end well, we're guessing, because Izzie is going to be resurfacing at Seattle Grace the following week, January 21! Then she'll be gone again.

Katherine Heigl is going on maternity leave, after all.

As for another budding relationship, Callie and Arizona are going to have a story coming up on Grey's Anatomy as well. Supposedly, Arizona is there for her in a tough time.

Okay, so that's not all that interesting. But "a good amount of make-out time" is on the horizon as a result. Holla! We love us some Calzona. Frankly, how can you not?

Lastly, Derek will soon learn to keep what his wife says in confidence. When he blabs one of Meredith's secrets around the hospital, the impact becomes wide-ranging.

Any theories as to what that might be?

Steve Marsi is the Managing Editor of TV Fanatic. Follow him on Google+ or email him here.

Tags: Grey's Anatomy, Spoilers