Something "epic" is about to go down on One Life to Live.
That's how producer Frank Valentini describes the multi-car collision that will take place next month on the show, as numerous characters converage during a snowstorm on Llantano Mountain.
"[It[ will be more epic in scale than the plane crash we staged [in 2006] and the impact more far-reaching. It'll blow everyone's mind," Valentini told TV Guide Magazine.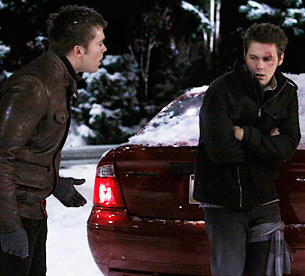 In the end, 15 characters will be involved in the pile-up, and it's all because Mitch has kidnapped daughter Jessica. Others arrive at the mountain hideaway with various goals: to save Jessica, to kill Mitch, to reveal paternity secrets, to find out the fate of loved ones, etc.
While we won't reveal too much about the event's fall-out, fans will be happy about this consequence:
Evil stripper Stacy Morasco will plummet through ice to her death. Said Valentini: 
"Whether you hate Stacy or love to hate her, February is your month. The end is going to be very satisfying for everybody. It's really kind of delicious."