We talked in our NCIS Round Table about how out of his element Tony DiNozzo was this week, thanks to his father's surprise visit. He'll be out of it in a different way January 26.
In "Jet Lag," Tony and Ziva end up in Paris, where, as luck would have it, a mix-up at the hotel requires that they share a room, executive producer Shane Brennan confirms.
"There is a scene where Tony and Ziva are outside having coffee in a French restaurant and they end up riding away on a little motor scooter," he reveals of Tiva's Paris trip.
"It is very romantic-looking, very French. Very Tony DiNozzo."
Fancast asked Cote de Pablo (Ziva) if she had a bone to throw Tiva fans regarding the next episode, and she replied, "It depends on what kind of a bone you're talking about."
Hot ... we think!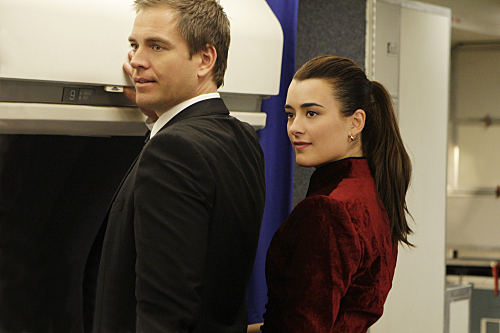 Cote noted that in this week's 150th episode, "Flesh and Blood," Tony's father (Robert Wagner) "asks him a couple of questions regarding Ziva, and all he does is dodge them."

"And in many ways that is telling of what is going on with Tony. He can't talk about us. He's always hiding, dodging the reality of it all. It's everything I think a relationship is."

"It's filled with unresolved sexual tension, with genuine caring, filled with genuine 'I can't stand you at times.' People relate to that. You have the good, the bad and the ugly."

Speaking of things unresolved, the show is casting the mother of one of Gibbs' ex-wives, a character Brennan says will shed new light on "what happened in his past."

Casting is underway for the multi-episode role.

Finally, prominent guest stars Michael Nouri and/or David Dayan Fisher may be back on the show in the near future ... and/or turning up on NCIS: Los Angeles.

"There's definitely room for both [Ziva's father and Trent Kort] to come back," Brennan told TV Guide. In fact, you might spy one of them on the spin-off. Teases Shane, "Don't be surprised if some of these characters end up on the West Coast."

Steve Marsi is the Managing Editor of TV Fanatic. Follow him on Google+ or email him here.

Tags: NCIS, Spoilers