Welcome to this special edition of the Gossip Girl Round Table!
With the show (FINALLY!) returning with a new episode on March 8, the TV Fanatic staff has gathered to preview what's ahead for Chuck, Serena and our favorite Gossip Girl characters. As always, reader feedback is encouraged regarding the topics below...
~~~~~~~~~~~~~~~~~~~~~~~~~~~~~~~
1. Which parental figure are you more excited to see: Chuck's mother or Serena's father?
DANdy: Did you see Chuck refers to his birth mother as a "whore?" Come on, it's gotta be the woman that created this awesome Basshole.
Gossip Guy: Any excuse to bring one of the Baldwin brothers to Gossip Girl has me excited.  Plus I'm looking forward to a little scandal between Rufus and Lily.  Hopefully it'll be enough to get our rock star's backbone back.
Mister Meester: Serena's father. Only because this will ensure more scenes with Serena, which will likely ensure more low-cut dresses on the character, which will make me very happy.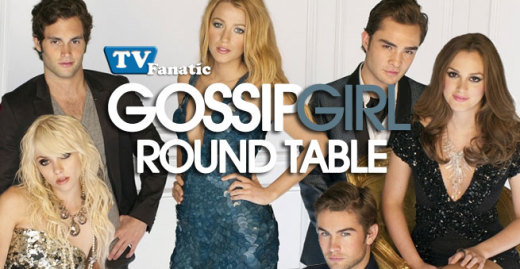 2. Whose return are you more psyched about: Georgina, Cyrus or Jack Bass?

DANdy: Not Jack Bass! No offense to Desmond Harrington, the actor who plays this character, but spoilers reveal Jack will be responsible - in some way for Chuck and Blair's break-up. Cue sad face.

Gossip Guy: Definitely Cyrus.  Wallace Shawn is a hilarious little guy.  Plus Jack is just going to ruin my Chair :(

Mister Meester: Georgina. She brings out the best in Blair. By best, I mean the worst, of course. But aren't Blair's underhanded manipulations the reason why we love this character?

3. Are you rooting for Dan and Vanessa to get together?

DANdy: No, because this will fuel my growing hatred/jealousy of Dan. The guy has bedded Serena, Hilary Duff and may now date a girl that's into threesomes?!? I really need to become a better writer.

Gossip Guy: I hope that's a joke.  Why would I root for anything Vanessa-related besides her getting off the show?

Mister Meester: Not if it means we see more of her mother. How much did that woman suck?!? The Barnacle complained more about her than about her daughter, something I didn't think was possible.

4. What have you been doing on Monday nights for the last three months?

DANdy: Reading, learning how to cook, working out more often. Definitely not searching the Internet for blow-up dolls that resemble Blake Lively. Not for hours at a time. No way.

Gossip Guy: Prior to these silly Winter Olympics, NBC was kind enough to give me Josh Schwartz's other masterpiece, Chuck, to keep me busy on Mondays.  However, the last few weeks?  Mostly just sitting in my room, alone and depressed.

Mister Meester: I have a newborn son, so this answer is easy: Not sleeping.

Matt Richenthal is the Editor in Chief of TV Fanatic. Follow him on Twitter and on Google+.

Tags: Gossip Girl, Round Tables