We broke down last night's NCIS: Los Angeles for you in our "LD50" review. Here, we further discuss some of the events from the episode in a Round Table discussion ...
1. What was your favorite scene from last night?

L.J. Gibbs: Sam going undercover. That's normally Callen's role, although it made sense given Sam's Navy vaccinations. You could feel the tension in the room, it was great.
The Barnacle: Chris and LL in the fountain. Yes, it was cheesy and yes, Sam getting there in time is a stretch. But I love the Chris-LL dynamic and the show's lighter side.
M.L. House: Tie: Callen's diving grab of the toxin (sadly a week early for a CBS Super Bowl ad tie-in) and Sam kicking a$$ and taking names after his cover was blown.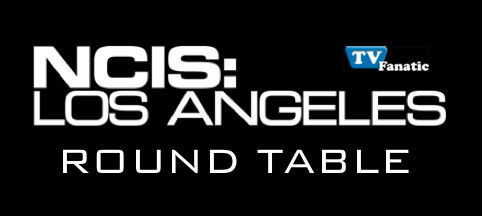 2. Who's a better undercover agent, G. or Sam?


M.L. House: This is Callen's thing, along Sam held his own last night, and it was neat to see the shoe on the other foot, as normally he's got Callen's back from afar. 

L.J. Gibbs: Whatever scenario you put these guys in works for me. They've been together longer than most married couples, as G. said, and they act like it professionally and personally. It's pretty much always a treat to watch the buddy cop tandem.

The Barnacle: G. He doesn't even have a first name. Enough said!

3. Did you like the way Dom's unclear status was handled?


The Barnacle: On one hand, I'm impatient about not knowing how this plays out, but on the other, it's classic NCIS. Not everything can be tied up perfectly each week.

M.L. House: I like how Sam refuses to let it go, Callen doesn't even speak of it and Hettie tries to manage everyone coping in his/her own way. Felt very real to me.

L.J. Gibbs: Definitely. The agents seem as clueless and lost for words as we are, which is clearly the point. Also interesting is the promo for next week showing Kensi getting shot. Guess the producers weren't kidding when they said no one is safe!

Steve Marsi is the Managing Editor of TV Fanatic. Follow him on Google+ or email him here.

Tags: NCIS: Los Angeles, Round Tables