We just LOVE Fox's new show Past Life! 
An innocent man is set free using the regressions of an addict, on this week's installment Dead Man Talking.  This episode has really set the bar high, making Past Life a definite contender in becoming one of the best shows on TV!  We are totally hooked!!!
We enjoyed the emotional rollercoaster of following an innocent man, who was unfairly convicted of a murder he did not commit.  At one point, there seemed to be no doubt his end was near.  Fredric even ordered his last meal. 
There were actual tears in my eyes when Fredric Lamm was released from jail!  The heartfelt reunion with his family has made me a fan in this show.  We hope all future episodes can fill last night's big shoes.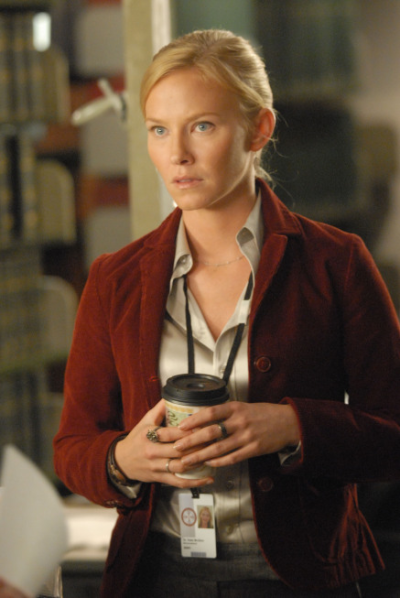 A young girl, Corrine, was able to use a past life experience to help free Fredric.  Her addiction to drugs was simply the result of living with these terrible regressions.  And you think you have it bad! 
The show really knows how to tug at your heart strings. The writers did an impressive job, making you empathetic to Corrine's struggles!  She had to battle an addiction and deal with past life visions, all while trying to raise her younger sister.  What a mess!
We also learned that Price might be battling his own demons, those found down an empty bottle.  He is apparently still grieving for his dead wife.  Can you really blame the guy?  We think he'll eventually come around and find a better way to deal with his problems.  Hey, he's found a great calling in helping Kate solve these old crimes!
Again, we really can't praise this week's episode enough!  If you still haven't watched Past Life, we recommend that you do!  Totally worth your time!!!
Until next week, we leave you with a few of our favorite Past Life quotes: 
Price: Kate, we're playing with fire here. Whether we're right or wrong nothing good can come of this.
Kate: Maybe we can help that man.
Price: With what? The past life memories of a girl who spent the last weekend in rehab? | permalink
Kate: Look Price, I know you miss your wife. Self medicating and allowing your inner cave man to come out is not the way to deal with your grief.
Price: Maybe I wouldn't need to self medicate if your weren't filling my head with all this crap about Lauren's spirit reaching out for me from the grave. | permalink
Price: Screw the system, OK. A man's life is at stake here.
Kate: If you know something you have to come forward. There's still time to do the right thing.
Fant: I'm sorry, I took an oath, I have an ethical duty. | permalink
Price: We need proof Corrine; regressions aren't exactly admissible in court. | permalink
Tags: Past Life
Want more Past Life?
Sign up for our daily newsletter and receive the latest tv news delivered to your inbox for free!
From Around the Web
More From TV Fanatic

So much for Past Life. Fox has canceled this series after just three episodes.

This week on "Soul Music", two people share the same regression that are star-crossed lovers searching for each other in their new life.

A series in which people haunted by past-life events are helped by psychologist Kate McGinn and ex-NYPD detective Price Whatley. In the premiere, Kate and Price assist a troubled teen who recalls an abduction/murder.
The pilot of Past Life airs next week. Here's an early look at it.
---