The latest SyFy drama, Caprica, is a prequel to the popular series Battlestar Galactica.
But those associated with the former have insisted: you don't need to know anything about the latter in order to follow (and enjoy) Caprica.
This may be the case, but it certainly doesn't hurt to have knowledge of the Cylons and their history. Look for this to ring even truer when the show addresses the "lives" of the Final Five on upcoming episodes.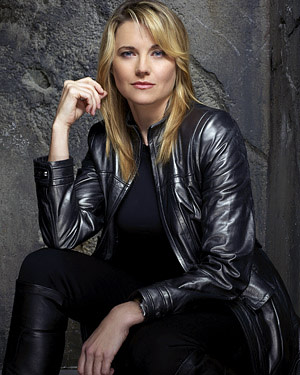 "If you actually do the math, the [human-Cylon] war starts about five years from where our characters are in Caprica," executive producer Jane Espenson told TV Guide.

Moreover, producers have already contacted Lucy Lawless (pictured) about reprising the role of D'Anna on the new series.

Don't worry if you've never seen Battlestar Galactica and none of this makes any sense yet. It eventually will.

Meanwhile, you can catch up on all Caprica episodes so far on TV Fanatic. A new installment airs on February 19.

Matt Richenthal is the Editor in Chief of TV Fanatic. Follow him on Twitter and on Google+.

Tags: Casting News, Caprica, Spoilers