What did we learn from the first American Idol results show of season nine? Well...
America pities a cute singer that gets (properly) lambasted by judges for his lack of singing talent.
Visible hand-shaking during a performance is grounds for elimination.
Lack of early round attention is harmful for a contestant's chances, no matter how well their sing a live performance.
Being hot isn't enough.
In order, these facts relate to the following semifinalists:
Tim Urban: You seem nice, but the shock you expressed after Ryan told you to sit down because you were safe should have been echoed around the country. This guy simply can't sing well enough. He should have been eliminated.
Janell Wheeler: She definitely chose the wrong song, as a Heart rock ballad isn't in her wheelhouse. But the overt nerves shown throughout the performance had to have been to blame for this decision. It was the first night. We wish America had kicked out Haeley Vaughn instead.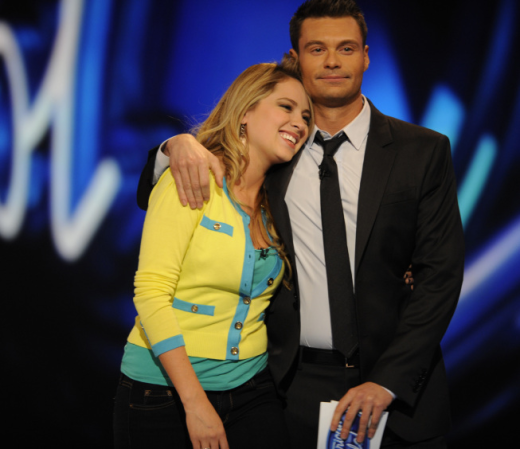 Joe Munoz: He suffered because viewers felt bad for Urban. Not seen at all before we got to the semifinals, Munoz's solid rendition of "You and I Both" wasn't enough to save him.

Ashley Rodriguez: The most beautiful female contestant went home right away. We don't mean to be shallow, but let's face it, America typically is. Based on her actual performance, hard to argue with this one.

In closing, did you catch what Simon said after Tyler Grady was eliminated? The singer, who relied too much on his 1970s-inspired gimmick, calmly said he wished the judges had given him better advice in early rounds. Simon's reaction? Good point.

We said the same thing after Grady and the top 12 men performed. If the panel was so critical of his schtick, why did it select him for the semifinals? Based on the inconstency of the judges so far, viewers aren't the only ones that need to shape up as season nine moves along.

Matt Richenthal is the Editor in Chief of TV Fanatic. Follow him on Twitter and on Google+.

Tags: American Idol