On every episode of Brothers & Sisters, there are family complications. Bumps in the road. Twists when you least expect them. Questions answered and left unanswered.
Last night exemplified all of these familiar themes as Luc's visa drama became a political hot potato and the stakes grew higher in the mystery of York and the Walkers.
Follow this link for a recap of "FreeLuc.com," then read TVF's review below ...
VISA: It's everywhere you want to be ... or something. Too bad Luc can't be where he wants to be because his is expiring. Wasn't Sarah going to marry him? Anyway.
Just as soon as Kevin puts in a call to an immigration lawyer at his old firm, protesters arrive at Kitty's campaign event. One sign reads "Frenchie Go Home!" Really?
Luc produces a letter from INS and proclaims he is legal now. However it happened, it's being tied to Kitty and Robert as some kind of political arm-twisting scandal.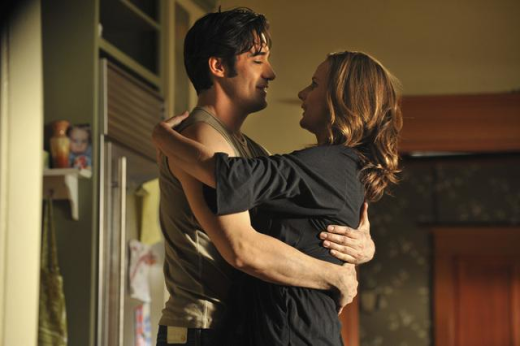 Is Luc becoming more trouble than he's worth for the Walkers?
Swarmed by media after returning from a jog, Sarah goes off on them before walking back into the house. Kitty is livid and we're all wondering what the heck is going on.
It's a classic political scandal in the 24-hour news era, in other words.
This was already getting good but then Luc, having already become a political liability, dropped the real bomb: That rumor that he used to work in a French brothel is true!
Guess Gilles Marini wasn't kidding when he teased trouble for Luc, who confides that the gossip is technically correct. His uncle owned a brothel and he used to work there.
Not "work" there, but work there. You know, doing errands and stuff.
Robert tells Kitty that Luc's visa has been revoked and they decide to do interviews the next day to defend themselves. At LAX, Sarah and Luc are ready to say goodbye.
Luc decided to leave ... until Kevin stops him at the last second!!
Kitty races to LAX and decides to speak out about the situation to a cameraman. The video spreads online in seconds. Ah, the Walkers. Politics and family always intertwine.
All in all, there was great political theater in this episode, especially with the tie-in of illegal immigration (albeit with a French artist). Where will it lead in coming weeks?
NARROW (LAKE) MINDED: Saul suggests Nora just meet with Dennis York, but Nora is firmly against it. She again says she doesn't trust him. What is the deal, already?!
Holly finally admits to Rebecca that she's broke and lost all of her money in a Ponzi scheme, Madoff style. Rebecca considers giving Holly the $2 million William left to her.
Meanwhile, Nora decides to meet Dennis York in secret. She refuses to sell Ojai, and he threatens to out whatever deep, dark secret she's harboring. Oh, this is good stuff!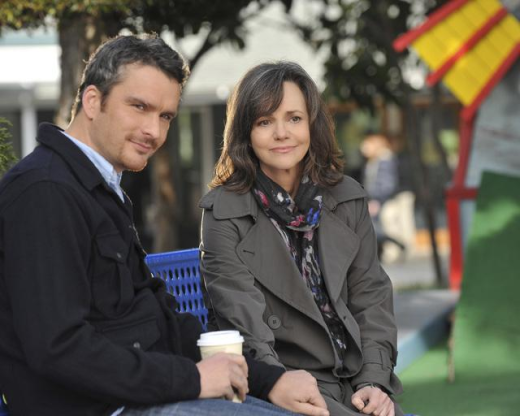 Nora brought Tommy back into the fold. Will he stay in it?

Nora tells Holly not to take Rebecca's money, and Holly replies that it's more about Rebecca trusting her enough to give it to her. Nora backs down. Again, so very complicated.

It's about to get more so, too. The next thing you know, Tommy is picking Nora up in Seattle. Nora tells him about Dennis and Narrow Lake, but he has no clue about the place.

Nora confesses that she has decided to talk the kids into selling their shares, except Sarah, who she is certain she can't convince. She needs Tommy to convince Sarah to sell.

Tommy is reluctant to get involved until Nora makes a profound point - that rather than being the crux of their family, Ojai may be the root of its problems. It's time to move on.

It definitely made sense that she'd go to Tommy, who was as invested in the company as anyone. We're curious if this story will somehow bring Balthazar Getty back full time.

Things aren't going well for Tommy as it is, and having heard his mother out, he agrees to return to California to convince his brothers and sisters to sell. But will he succeed?

What family secret is Nora hiding? Are you happy to see Tommy back? What do you think of this crazy Luc drama? Leave a comment with your thoughts!

Steve Marsi is the Managing Editor of TV Fanatic. Follow him on Google+ or email him here.

Tags: Brothers & Sisters, Reviews