For the second time in the last year, 90210 star Michael Steger has been kind enough to sit down with TV Fanatic.
Following our latest interview with the actor, we have a better idea of what's ahead when this CW hit returns tomorrow night. We'd like to thank Michael for his time and to excerpt some of our conversation with him below...
TV Fanatic: The has been off the air for three months. Is there any fear on how this might affect ratings or viewship?
Michael Steger: Not really. I was glad we waited until after American Idol had premiered. It was almost a necessary thing as a result of that, and I took it as a nice break.
TV Fanatic: Where are you with filming?
Steger: We recently finished the finale. It took eleven days.
TV Fanatic: What can you tell us about it?
Steger: There are some pyrotechnics involved. A lot goes down and we learn who killed Jasper's uncle.
TV Fanatic: Any 90210 spoilers you can reveal?
Steger: Navid starts a relationship with Lila, one of the reporters on The Blaze News.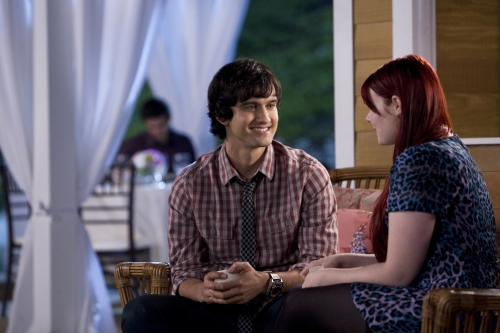 TV Fanatic: How does Navid react to Adrianna's new, same-sex relationship?
Steger: He blames himself at first. He wonders: Did I make her gay? When Navid sees Adrianna with Gia, a reporter on The Blaze, he's stunned by the entire picture.

TV Fanatic: How has Navid changed since he was first introduced to viewers:
Steger: At first, he didn't know what he was made of. It took a girl like Adrianna to bring it out of him. Navid learned a lot about himself through that relationship and it helped him grow into manhood. It was more self-worth now, more of a backbone.

TV Fanatic: Rob Estes is leaving after this season. What's it been like to work with him?
Steger: It's been one of the highlights of the show for me. He's cool, talented, a great guy. I', confidence he'll come back at some point.

Matt Richenthal is the Editor in Chief of TV Fanatic. Follow him on Twitter and on Google+.

Tags: 90210, Exclusives, Interviews