What will go down on The Vampire Diaries season finale? We've already given viewers a few teases.
But in an interview with TV Guide, producer Julie Plec reveals even more about the May 13 episode and events leading up to it. Stop reading now if you wish to be surprised...
On Elena's mother/Alaric's wife: The next episode is very much about Elena's search to try to get to the bottom of who this woman is and how, if at all, she connects to Alaric.
On David Anders as Jonathan Gilbert: He's stepping in to fill the shoes on the Founders' Council, with there being a lack of Gilberts representing the founding families. Uncle John gets in there to stir things up.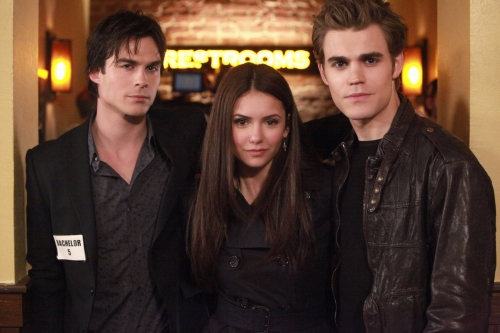 On Jeremy: We're exploring how he starts to dig a little bit deeper and put the pieces together of what exactly vampires are and if they're real. Is this pretty girl that he kissed in the woods, who we saw little veiny eyes on, is she one? The vampire has a crazy allure, as we've seen between Elena and Stefan, so is he going to fall for her or have some feelings for one of his own?

On the season finale: What we've been building to from the beginning - it's something we took directly from the books - is this event called the Founders' Day Celebration, which is the anniversary of the founding of the town. We're looking into big period costumes and Civil War reenactments and maybe some parade action with some big floats.

It's going to be the big event that connects us back to 1864 and what went down back then. It messes things up so when we come back in Season 2, everyone has a reason to tune in again. There are nine "oh my God" moments.

The Vampire Diaries has already been renewed for a second season and returns on March 25.

Matt Richenthal is the Editor in Chief of TV Fanatic. Follow him on Twitter and on Google+.

Tags: The Vampire Diaries, Interviews, Spoilers