First, the Heroes tribe lost a castaway (James) to injury on Survivor this week.
Then, the tribe lost its mind!
In an exit interview with Entertainment Weekly, eliminated contestant Tom Westman sounded off on what went down. Check out a few excerpts below...
On being sent home instead of James: I think if James had gotten his head cut off in that challenge they would have brought his head along in a bowling bag and had him vote against me. And that was frustrating actually having to defend myself that I was more of a physical value to the team than the guy who had been sent back into the game wearing a brace.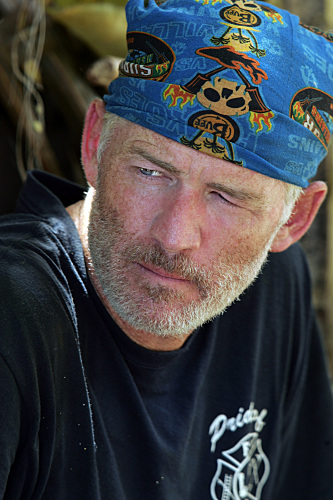 On Rupert: I needed him to make the move, which I think would have redeemed him in a lot of people's eyes. You know, America loved that guy, and I think he let himself down big this time... I really believe that it [he] was selfish: get rid of anybody that might get more camera time than me situation, and that was Rupert's motive in the beginning.

On the atmosphere: Socially, it was pretty abysmal out there. Thank God Colby was out there so that you had one good guy you could talk with about something besides their previous season. Some of these people, if they weren't talking about what they did in Pearl Islands or what somebody said in Tocantins, there really wasn't much to talk to these people about.

On Boston Rob: I'm loving watching him this season. It's just been a great ride, and single-handedly he's just thumping us out there with those puzzles.

Read the complete interview at EW.com.

Matt Richenthal is the Editor in Chief of TV Fanatic. Follow him on Twitter and on Google+.

Tags: Survivor, Interviews