White Collar Review: "Front Man"
at . Comments
Last night on White Collar, we got one step closer to finding the music box. Alex would not give Neal any information about the box unless he proved that he could get away from the FBI without the ankle bracelet.
At first, we weren't sure how Neal would be able to pull that off, but of course this guy knew the perfect time to get away. It amazes us how everything always seems to work out for Neal just at that last second. This guy is lucky!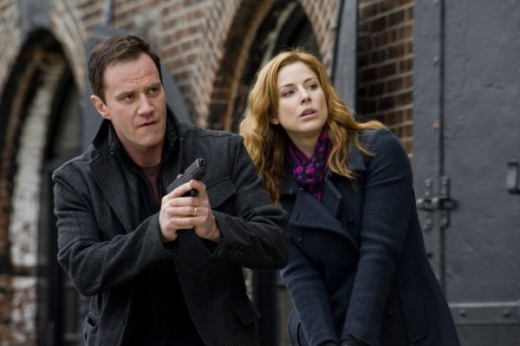 We were impressed with Peter's ability to know that Neal met with Alex. How could he see the single brunette strand of hair on his jacket? It was like Peter was inside Neal's mind.
The big question is - how will Neal be able to steal the music box and not go to jail?  As the season is coming to an end, we know we are going to be unable to sit through the intensity of this show!
"Front Man" did keep our interests peaked, especially the scene with Mozzie helping Neal. We like how Mozzie is the Robin to Neal's Batman. He always finds a way to help him in the most dire of circumstances.
Our favorite part of last night's episode was Mozzie freaking out that he was tricking the big crime leader, Riley, into giving them his briefcase. We feel like Mozzie is the brains behind (almost) everything Neal does.
We weren't too impressed with Rice and thought her character was lacking the strong leadership an FBI boss would have. We knew that there was a reason why she was so determined to have Neal on her case from the beginning. What was your take on her?
Tiffany Thiessen has been absent due to her pregnancy in real life, but her character Elizabeth is totally missing any main plots/story-lines on this show. We feel bad because we love her and want her character to be a main one and not just a character with a couple lines here and there. Hopefully next week we will see more of her!
Lastly, we can't wait to see what Fowler has been up to! What about Kate?!
Until next week, we leave you with some of our favorite White Collar quotes:
Neal: You go half way around the world chasing something and the whole time it's in your own backyard. | permalink
Mozzie: That's the closest I've come to death this year. | permalink
Mozzie: I just said that to a guy who enjoys killing people with his bare hands. | permalink
Elizabeth: Not everything has a secret meaning. | permalink
Tags: White Collar, Reviews
Want more White Collar?
Sign up for our daily newsletter and receive the latest tv news delivered to your inbox for free!
More From TV Fanatic
On Tyrant, Bassam attempts to find a peaceful resolution instead of a revolution. Will he succeed?
On tonight's Covert Affairs, Annie and Auggie switch jobs and head to Paris. Will Auggie succeed in the field with Annie as his handler?
A leg went flying on The Real Housewives of New York City this week. You must read this review.
On Perception, Daniel and Kate try to track down a missing baby. Kate also must deal with Donnie's talks about their own future children.
---